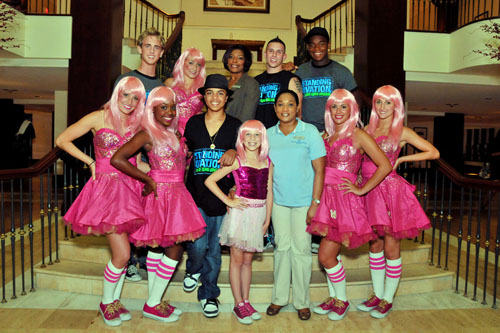 Nassau, Bahamas – The cast of the summer musical feature film, Standing Ovation,  along with a hand-picked cast of children from Nassau performed a Live Show to benefit the Ranfurly Home for Children at the British Colonial Hilton in Nassau Bahamas on August 8th.
The sold out show was attended by Bahamian dignitaries and the who's who of Nassau.  After the show an autograph session took place for the excited fans. All benefits of the concert tickets were donated to the Ranfurly Home.  In addition Diane Kirman of Kenilworth Films, the producer of Standing Ovation, wrote a $10,000 check to the Orphanage.
On August 9th the cast and production staff visited the Ranfurly Home.  The cast members taught and made friendship bracelets with the children.  The cast put on an impromptu concert with some of the very talented residents of the Ranfurly Home. The Children of Ranfurly Home led by former resident, "Damien" sang the Bahamian National Anthem.  5 of the cast members, under the direction of voice coach, Sal Dupree (who coincidentally was raised in an orphanage), sang the National Anthem.  Damien is a former resident of the Ranfurly Home and has just recorded a song he wrote called "Love That Child" which he also performed at the Live Show.  All proceeds from his CD benefit the Ranfurly Home.  Some of the children of the Ranfurly Home were moved to tears when the cast had to leave the Home.
Diane Kirman and Suzanne Nunez (executive producer) were so moved by the children at the home and their needs that in addition to the monetary donation they asked the school for a wish list.  They are purchasing everything on the wish list and also are having 80 brand new mattresses delivered to Ranfurly Home this Thursday.
The producers rewarded the teen cast for sharing their time and talent with these less fortunate with a trip to the Atlantis for a dolphin excursion.
The Standing Ovation Live Show was directed by Debbie Apalucci, former Sixers' Dance Team Director & Owner of Touch of Class Dance Studio.