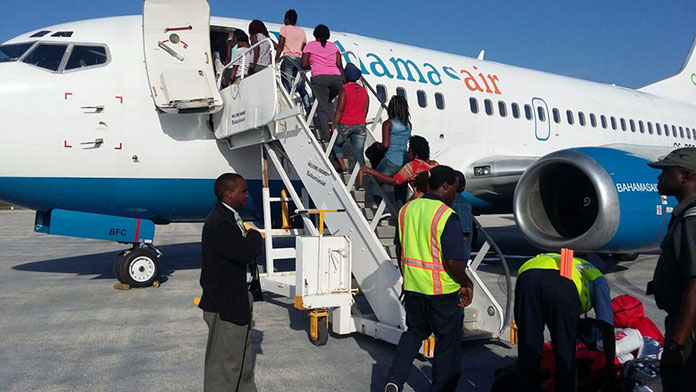 Coral Harbour Base, 15 MAR. '18 (RBDF): A total of 184 Haitian migrants were deported out
of the country earlier today after they were charged before the courts. The RBDF assisted with
security detail and flying in a portion of the court officials for the case to be tried in Inagua.
The Haitian nationals were apprehended in a combined effort by patrol craft of the Royal
Bahamas Defence Force and the US Coast Guard this past weekend.
The first group of some 100 migrants were apprehended shortly before 8 pm Sunday evening by
Defence Force patrol craft HMBS Durward Knowles, under the command of Lieutenant
Commander Omarv Saunders approximately 20 miles southeast of Great Inagua. The sighting
was made by an OPBAT helicopter patrolling the southern Bahamas.
The second group of 84 migrants were apprehended following a joint interdiction by local law
enforcement agencies. The vessel had landed on Lantern Head Point near the southeast coast of
Great Inagua also on Sunday evening.
They were charged for illegal entry into the country before Magistrate Joyann Ferguson Pratt.
Migrant Photo shows: Haitian migrants waiting to aboard an airline to Haiti after they were
charged with illegal entry into The Bahama. They were a group of 184 migrants which were
apprehended in the Great Inagua area on March 11, 2018.