Grand Bahama Air Show Educational Component"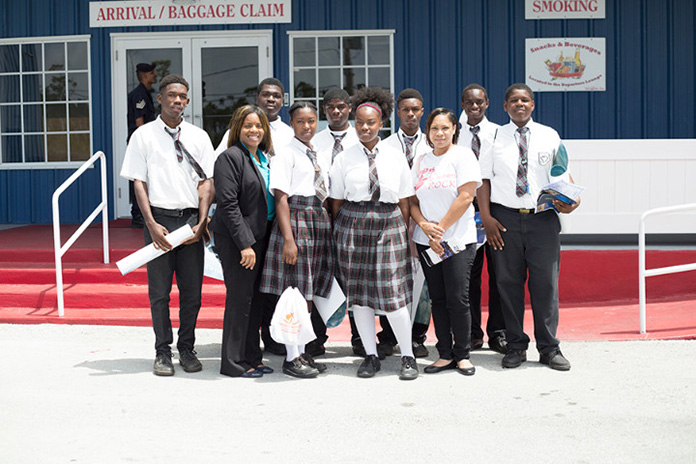 Freeport, Grand Bahama Island- On Friday, May 19th, the 2nd Annual Young Eagles Career Fair kicked off the start of the Grand Bahama Air Show at the Western Air Terminal on Grand Bahama Island.
With over 150 students in attendance, from both Grand Bahama and New Providence, the Young Eagles Career Fair offered to students from grades 10-12 both a theoretical and hands-on preview into the world of aviation, and the many career options available to them.
Betty Bethel, Director, Ministry of Tourism, GBI said that " The Ministry of Tourism is really proud to be in partnership with Air Boss, John Wing Air Calgary and all of the performers to bring an event to Grand Bahama Island that not only entertains but also has the ability to influence career opportunities".
With aero clubs, simulators, guest speakers, and the opportunity for 30 students to experience flying time with both international and national pilots, the young persons who participated in the career fair were able to access as much information as they could about the aviation business.
Michael Zidziunas, Lakeland Florida, Flying Ambassador, said that "Aviation is an important piece of the infrastructure [in The Bahamas]; everything goes throughout the Family Islands either by boat or by plane so one pilot can change a whole community".
For D'Asia Russell, Junior Minister of Tourism, GBI, the career fair was a once in a lifetime opportunity to fly in the Aero Shell planes set to open the actual Air Show. Russell said, "The experience was breathtaking, truly, when we did a dive and he spun around in the plane, it was really unexpected but I enjoyed it".
Karenda Swain, Assistant Manager, Training & Education, said that "The Ministry of Tourism's training unit focuses on our students in particular. They are equipped with knowledge, particularly for the tourism sector, and aviation is very close to the Ministry of Tourism and we want to ensure that we expose our students to the careers in those areas".
She continued to say that "It's very important that the organization gives our people an opportunity! We are going to be looking at our future pilots and these individuals will be responsible for transporting visitors from all around the world to come to our shores".
The Young Eagles Career Fair could not have been possible without the aid of the Air Boss/Lakeland Aero Club, Flight Nation, 2 Fly Group, Western Air, Grand Bahama Airport Company, Bahamasair, Flamingo Air, Majors Air, Grand Bahama Island Tourism Board and the Ministry of Tourism, all of which were participating vendors on site.