BTC begins back-to-school charity tour in Andros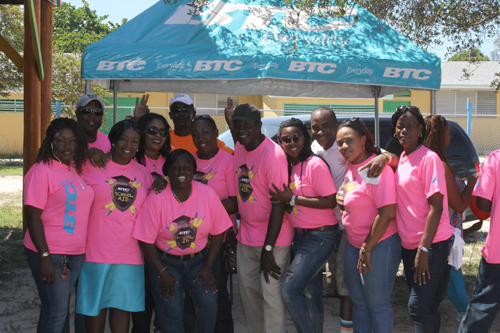 Nassau, Bahamas – Its back-to-school time and BTC is back at it, assisting over 200 Androsian school children, and 60 parents to prepare for the new school year at their 3rd Annual School Aid event. This is the first time that the event has been held outside of Nassau, and also the first time it was open to the public.
At the event, 11 iVolunteers, BTC's community service corps, assisted with the activities as students enjoyed games, health screenings, food and drinks, face painting and a wide range of other entertainment to help participants get in gear for September.
Each student received a BTC backpack filled with school supplies and BTC provided back-to-school haircuts and styles for the students, with a barber and salon stall on site.
The parents were also encouraged to join in, receiving seminars on parenting, good health, and nutrition. The Karaoke King of Nassau flew in to entertain the crowds and gave participants chances to win free giveaways and phone cards.
Christopher Hinsey, BTC Senior Manager, Andros, said that he was pleased with the event and looks forward to seeing it grow.
"We decided to have it here in Central Andros for the first time, serving the students from Behring Point to Stafford Creek," said Mr. Hinsey. "It was a real success and I believe the kids enjoyed themselves, they are still talking about it! It was good for the parents to also get out and participate. The greatest part of it is that we [BTC] were able to partner with the community. I think this is something that the kids would be looking forward to and we will only see greater participation in the future. We have made a really indelible impression."
iVolunteer and BTC Marketing team member Ajna Darling said that the staff members who volunteer simply want to bolster the children's self-esteem.
"Some students aren't fortunate enough to afford a heavy duty school bag," she said. "We want them to feel just as good about themselves as the students that can."
The event is part of a series of initiatives that BTC is spearheading for the back-to-school season. The company plans to have another School Aid event in Exuma to coincide with the opening of the BTC sponsored Rolleville Library later in September. In addition, BTC has donated t-shirts to COB freshman orientation and donated school supplies to their adopted home, the Bight Mission Home, in Cat Island. BTC will be hosting a myriad of additional events for students throughout the first months of the term.
The Bahamas Telecommunications Company (BTC) is the leading telecoms operator in The Bahamas. BTC is jointly owned by Cable & Wireless Communications (51%) and the Government of The Bahamas (49%).