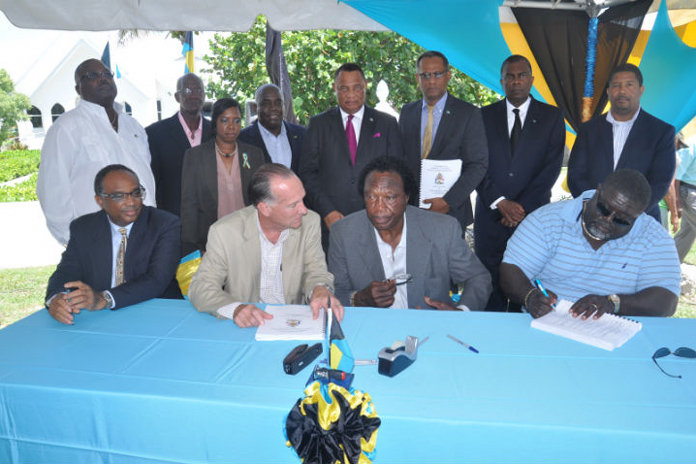 SMITH'S POINT, Grand Bahama – A $4.8 million contract for a Sea Wall in Smith's Point was signed between the Ministry of Works and Urban Development and Smith's Construction Company, Friday, June 24, 2016.
During the ceremony Deputy Prime Minister and Minister of Works and Urban Development, the Hon. Philip Davis said residents of Grand Bahama, like the rest of The Bahamas, are well aware that coastal living has its beauties as well as its challenges.
"For many years, the entire southern shoreline along Smith's Point has experienced progressive erosion as a consequence of storms and sea surges. It is plain to see that there is now no existing seawall to protect the shoreline and residents of the area.
"Additionally, due to substantial erosion to the land, sand and water are washed into the road causing dangerous driving conditions.
"These conditions are compounded by factors relating to climate change," the Deputy Prime Minister said.
"My Ministry is therefore, eager to ensure that structures specifically designed to afford sufficient protection to coast settlements and critical infrastructure are in place to promote the economic viability of this area."
As a result of this, the Ministry of Works and Urban Development entered a contract with Smith's Construction to do the following work:
· The site will be cleared and the existing vegetation will be removed;
· A reinforced 1,730 foot concrete seawall with piled foundations measuring will be constructed;
· A five foot wide concrete sidewalk will line the carriageway side of the seawall;
· There will be a provision for a ramp and steps to the beach;
· Wall toe erosion protection will be offered in the form of Duraguard Gabion baskets;
· The highway will be reinstated and repaired; and
· Provisions will be made for road drainage and street lighting to the area.
The contract was awarded to Smith's Construction in the amount of $4,825,839.35. The owner of the company, Washington Smith, the Deputy Prime Minister said, is known for the quality of his work and the Government is satisfied that the company has the experience and technical expertise to complete the job on time and within budget.
The Deputy Prime Minister added, "Some weeks ago, we executed the Fishing Hole Road contract. The works at Smith's Point represent yet another component of the robust package of capital investment projects that we promised to deliver for Grand Bahama.
"Cabinet has Grand Bahama well represented to ensure that your interests are properly served. We have been focused and steadfast in duty. While we have had to work doubly hard with significantly less to jumpstart a neglected economy, we are very pleased to improve the infrastructure of this island."