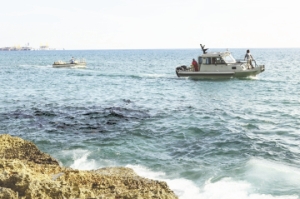 The Ministry of Transport & Aviation advises that on Monday 28 September, 2015 at approximately 4 pm, reports were received from multiple sources of an oil spill in the Eight Mile Rock area. There were complaints of a foul odor, and there was evidence of an oily substance on the surface of the water.
Upon receiving these reports, the ministry immediately launched an investigation into the matter. Oversees Marine Group responded to the oil spill at approximately 4:45 p.m. on Monday 28September, 2015, utilizing one oil spill response vessel, an eight-man wok crew and oil spill equipment, to contain and recover the oil. Representatives reported that a very heavy sheen and a black oily substance, believed to be oil, had collected into a heavy pocket and stretched approximately one mile west of the harbor. Overseas Marine Group subsequently transported officials from BORCO to the site to examine the extent of the pollution, and were hired to conduct the clean-up operation at approximately 6:00 p.m.
Oversees Marine Group completed approximately 75% of the clean-up of the oil spill by 8:00 p.m. on Monday 28 September, 2015 and the entire clean-up was completed by 10:00 am. on Tuesday 29 September, 2015. All debris was removed from the beaches and coastal areas, and an inspection was conducted by officials from the Port Department and the Department of Environmental Health Services in Freeport, to ensure the adequacy of the cleanup. Oversees Marine is to be commended for the company's efforts in minimizing the impact of this oil spill.
The investigation into this matter is continuing to determine the source and circumstances of this marine pollution incident. The reporting of all spills is mandated by the Merchant Shipping (Oil Pollution) Act, and all stakeholders must be responsible and report these matters to the authorities on an urgent basis, when they occur. The ministry wishes to emphasize that the protection of the marine environment is the responsibility of all.