WHAT IN THE HELL IS DIS? THIS WOMAN COULD BE DEAD THE NEXT TIME THIS OCCURS! THIS IS HER SECOND ATTACK!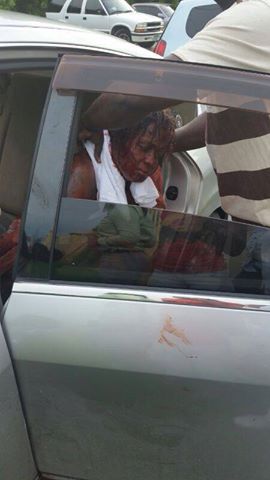 THE FACE OF DOMESTIC ABUSE IN THE BAHAMAS!!!! WHERE WAS THIS MAN WHEN THIS WOMAN WAS ATTACKED? Bahamas Press has learnt that this man is the husband of the woman who was attacked yesterday. We were told a story of an intruder who came into this woman's home and attacked her viciously.
But BP is now getting a new twist to this story. We understand she is the victim of an extremely abusive relationship. Friends tell us the husband is "STUPID" and could be a person of interest for police.
Yesterday it was reported on Bahamas Press that: "The woman, shown here drenched in her own blood, suffered wounds to her head, back, neck, chest, hand, and has a broken finger. The suspect sexually abused her but was unable to rape the victim."
When we saw the crime-scene, we said this is definitely a crime of passion and someone known to the victim must have been involved. But we bought the story anyway.
But now we have learnt this is not the first time such an incident has happened to this woman! We are told the last time it occurred it happened to her at the hands of her husband – the man on the left.
Bahamas Press calls on the authorities [DA POLICE] to look deeper into this domestic abuse situation. And get to the bottom of this! DO NOT LEAVE THIS WOMAN ALONE!!!!! PLEASE!
We report yinner decide!