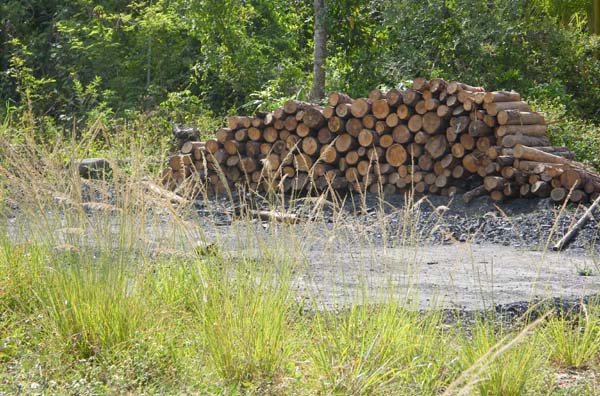 <<< Stacks of chopped pine trees walled around a coal pit. Bahamas Press has uncovered this 'VICKED' CRIME, where illegal residents on New Providence slave to produce coal by cutting down tracks of pine trees in the southwest. Where is the cry by those who protect our environment?
Nassau, Bahamas —  Last year April Bahamas Press carried this story highlighting Haitian cutters off Carmichael Road west as being guilty culprits of cutting down trees and using the wood to burn coal. No one listened to our exclusive.
Today police are investigating a "Freak Accident" they called it, where as woman was pronounced dead in a pine yard near the Dignity Gardens subdivision. It is in that vicinity Haitian cutters have chopped down more than 550 Pine trees. The cutters have no regard for the law and to this day, even after the incident over the weekend, they're still clearing down acres of pine trees.
Bahamas Press predicts the time will come when there will be no more pine trees left in the Southwest where much of the forest as we now know it will be gone; chopped down by illegals. We will become just as Haiti now is without trees despite the fact we have an entire ministry committed to protecting the environment. We wonder where Sam Duncombe is now.
The woman in the freak incident was struck by the falling tree. The cutter had a chain saw and up to this hour is said to not be in police custody. The woman was pronounced dead on the scene.
—–END—–
Here is the story we posted in April:
Whilst everyone was celebrating Earth Day and planting trees in the Bahamas last week, illegal residents were burning down trees and producing coal in the southwest just off Carmichael Road. Bahamas Press has latched onto the issue and is calling on the government to take full control of our environment and prosecute these tree cutters/coal producers.
The forest areas in the southwestern section of New Providence are thinning, as illegal squatters are daily chopping down pine trees to produce coal for export. Is this not a crime? Why are Bahamians so blind to the environment? Why would we wait until New Providence is left with 2% trees and face the wrath of hurricane winds before we put a stop to this?
What since does it make for the people of this country to be planting trees, whilst squatters are chopping them down and burning down large track of pine forests trees to produce coal? Bahamas Press visited this a coal production site just off Carmichael Road (WEST). And look at the wood being chopped down and burned to produce coal for export. Someone must be jailed for this CRIME of RAPE against the environment.