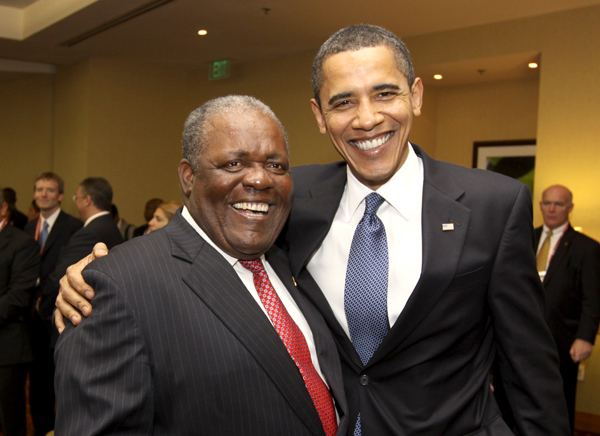 <<<Prime Minister the Rt. Hon. Hubert Ingraham is pictured with United States President Barack Obama prior to the official opening of the 5th Summit of Americas on Friday, April 17, 2009. The Summit, which closes on Sunday, April 19 was held at the Hyatt Regency, Port of Spain, Trinidad.
PORT OF SPAIN, Trinidad – United States President Barack Obama met with leaders of the Caribbean Community (Caricom) in bilateral talks Friday; a meeting expected to lead to a strengthening of existing bonds between the US and the Caribbean.
Prime Minister the Rt. Hon. Hubert Ingraham meantime advised that Caricom expects to receive an invitation to meet with President Obama in Washington later in the year.
The bilateral talks were held at the 5th Summit of the Americas in Port of Spain, Trinidad. President Obama was accompanied by United States Secretary of State Hillary Clinton and other members of his administration.
Addressing reporters prior to the start of talks Mr. Obama said, "We are looking forward to a meeting that would allow us to strengthen bonds even more and to make certain that in a spirit of partnership, we are able not only to increase economic growth but that that growth is spread widely and people all across the region can benefit."
Regarding an economic recovery for countries in the Caribbean, Prime Minister Ingraham pointed to the importance of a rebound in the US economy.
"The most important thing for the Caribbean is for the United States to get its economy going," Mr. Ingraham noted. "When the United States economy is going then all of our boats will lift in that water and so we are hopeful that [President Obama] is going to be able to do that but the worst is not here yet.
"We still have some bad days to go and hopefully the things that he is doing will cause the economy of the United States to turn around and thereby help us."
Mr. Ingraham, who pointed to what he termed the success of the talks and of the Summit generally, said Caricom leaders enjoyed a candid discussion with the United States President.
"President Obama was very open and candid and expansive," he said. "He was clearly very knowledgeable about all of the issues that were raised with him. Where he did not have a specific answer now he undertook to cause us to be able to get those answers and I think that everyone who left the room left very hopeful and satisfied that he will seek to deliver on those things he raised."