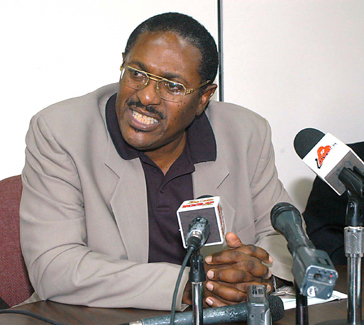 <<< Malcolm Adderley's defiance will test the new PLP leadership before the Bahamian public. Bradley Roberts, Chairman of the PLP.
Nassau, Bahamas — We are not about getting into the PLP's business, however, Bahamas Press believes the Malcolm Adderley saga with the party has dragged on long enough.
You would know Adderley, according to sources close to him and BP, will resign from his seat in the Lower House. And despite this development it appears the leader nor anyone else inside the PLP can get this selfish member to speak to what hook Hubert Ingraham now has in him.
Bahamas Press believes this is unbecoming of a standing member of a Party and now it the time for the PLP to save itself national embarrassment and disgrace from a selfish backbencher.
Adderley refuses to meet with the leader, thus he dismisses the leader. He refuses to meet with envoys set up by Christie, thus he dismisses them also. He refuses to meet at any PLP caucus meeting. Nor has Adderley appeared at any Parliamentary voting where he votes with the PLP when they oppose the government. This is indeed incredible!
Bahamas Press believes this is now time for the Chairman of the Party, Bradley Roberts, to convene a National General Council meeting of the party and command the MP for Elizabeth to account to the Trustees of that organization. That meeting should be summoned before Adderley makes his move in the New Year. His failing to appear at that meeting should then move a motion for his expulsion from the organization.
Readers would remember the results of the Greenberg Quinlan Rosner report, which outlined the reasons for the Party's defeat in the 2007 general elections. It noted that Christie's weak leadership style was the main cause for the Party's defeat.
Incidents such as Adderley's lack of participation magnifies the results of the report to the electorate and incredibly one again – like the buss up in the Cabinet Room strengthens to the public fact Christie cannot control members of his own party.
For more than a year now, Bahamas Press has called for Christie and the PLP to censure Adderley. For more than one year we have asked the PLP to reel him in. For more than a year we've told them to Fire Malcolm Adderley, but contrary to this they've allowed this itching saga to continue. Well, all we say is this, sit there and continue to do nothing, you'll soon see why the people rejected the PLP in 2007.
LATE AGAIN! LATE AGAIN! LATE AGAIN! WE
NEED CHANGE!