Branville along with his family.

Branville McCartney attacking the PM in a time of mourning is UNCHRISTIAN!
Nassau, Bahamas – Bahamas Press finds the statements by the leader of the DNA, Branville McCartney, to be those of one tempered in the spirit of a drunken man who has no heart for people.
Today, the heartless political step-child of Hubert Ingraham went on national radio castigating the country's Prime Minister who is at this time in deep mourning following the lost of his wife's mother, who he built a home for alongside his own.
Branville was reckless and showed no sign of compassion for the family who has lost a dear soul. McCartney's statement is not Bahamian and should be rejected by all.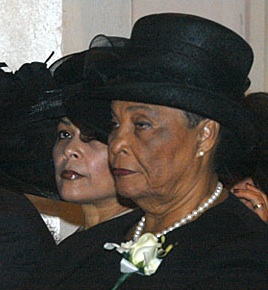 The statements by the leader of the DNA reminds us of the actions of another heartless man named Hubert Ingraham, who on the day of the burial of the father of the deputy prime minister, traveled to Cat Island to campaign against the incumbent in mourning.
What we see here is a descent to the lowest of the lows by lowlifes who are so drunk with power that they will make any JACKASS statement to gain public attention.
It would have been wise for the DNA leader to relish the fact that we are all mortals, collections of dust, who bring meaning to lives, and, when one passes, it is the obligation for us in the village to also mourn. This is the way of Bahamians. This is how we respond to death.
In fact, this is the way of the world and particularly those who aspire to lead in the world.
It was very appropriate for the Prime Minister to forgo his travels to be at the side of his soul mate, who at this time must be in great sorrow over her mother's passing. This is what decent people do. They join in sorrow, not draw the sword.
Two former DNA candidates have also rejected the statements by the leader of the organization and have disassociated themselves from the comments of their leader. They, too, are decent people.
Therefore Branville McCartney should know that those unkind remarks toward the Prime Minister are unwarranted and should be rejected by the village and all Bahamians.
We call on all members of the DNA to repudiate the remarks of its leader. This is the lowest of the low.
We report yinner decide!