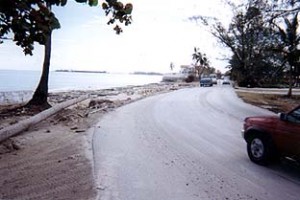 San Salvador — Just a hop from Eleuthera and not far from Cat Island Bahamas Press agents sitting in the Riding Rock Inn in the beautiful community of San Salvador tell us we have another murder on our hands as the bloodbath continues across the country.
We can confirm, having just landed on the island; residents discovered the lifeless body of a female.
Early reports already point to a suspect known to the deceased, whom we are told is now on the run.
The woman, from what we know, was a security officer on the island. Because family has yet to be identified, Bahamas Press will hold off naming the victim at this time at this time.
This murder accounts for some 278  committed in the country since 2009. She is BP's 92nd murdered victim and is the 3rd persons to die by the hands of heartless killers, who have been released to slaughter the innocent all over the Bahamas!
And while all this slaughter, mayhem and river of blood swallow up the country, Papa and his crony 'Da Tycoon' gone fishing on the JULY ROCK while the country reels on autopilot!
WE NEED HELP!