<<< Why is the Bahamas for everyone but Bahamians?

BP Guest Writer

Nassau, Bahamas — In today's economy, the search for jobs and re-entry into the workforce seems to be the most difficult, even for qualified Bahamians with academic achievements. In about 6 months,approximately 6 or 7 thousand more students will be graduating from High School, hundreds more from technical institutes and colleges-both locally and abroad, with the hopes of entering the Bahamian workforce and contributing to our society and the Bahamian economy……… But where are the jobs!!!
Our government needs to consider the future of not only our youth and their ability to be a part of our national workforce, but also the thousands of Bahamians already laid off and not working, but that continue to fill out applications daily all over this country in the hopes of finding employment!!
Why are foreign nationals worker's permits being renewed for positions that Bahamians can perform! Why are Bahamian business men and women renewing working permits and other documentation for foreign nationals to continue to work, when our Bahamian brothers and sisters are without any source of income! We must learn to become our brother's keepers and our administration needs to put some responsibility on the employers, still renewing permits for foreigners during these trying times! I believe the Bahamas should be for Bahamians first!!!!
It is normally said and used for an excuse, that Bahamial workers aren't willing to do many of the jobs given to illegal immigrants or migrants. The fact of the matter is, these are jobs which Bahamians used to do and still will do if they were offered viable wages. However, immigrants- illegal or on workers permits in most cases coming directly from poverty are used to working for little and are willing to accept much lower pay than the average Bahamian, thus, lowering the value of the workforce directly, whilst, simultaneously quieting the demand of higher wages for Bahamians in a developing country!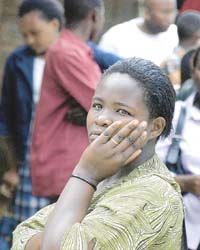 The average middle class worker would have to stoop down, lowering their living standards in order to accept such wages that the illegal immigrant accepts. A construction company that hired a truckload of illegal immigrants could easily place a much lower bid for a contract than a company that hired Bahamian citizens. Because of this, more and more middle class workers are being forced out of jobs, accepting lower wages and fewer benefits!!!
Illegal immigration depresses wages for our Bahamian Labourers. Ofcourse we want to be humane, ofcourse we want to help, but at what cost? Are we to keep our development and increase of wages for ourselves stagnant or depressed as our economy is being raped from both sides? From the millions being accepted and sent out of the economy to the lower wages one must accept in order to keep employment! Bahamas you choose!!!!
It is my hope, that as is depicted in this picture, a Bahamian mother should no longer be expected to go hungry and her children go hungry, because there are "no jobs" when we have foreigners employed, receiving a weekly salary and exporting these funds outside of our economy, as we increase the amount of Bahamians in the Bahamas without a job and ability to provide for their children!