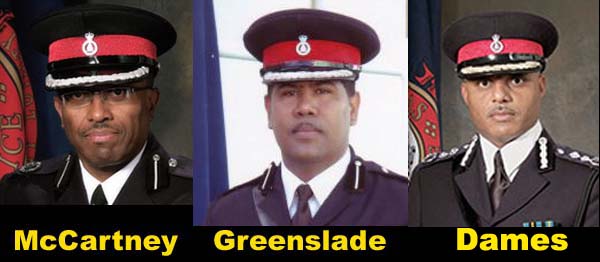 Nassau, Bahamas – Someone in the upper echelons of the RBPF will be getting pimp slap again, this time from BP.
Bahamas Press is standing quarter guard at the entrance of the RBPF head office on the top of East Hill Street, and we are asking once again some serious questions.
A senior police now in the high command is being suited by one of the finest haberdasheries in the country and we call on the Commissioner of Police to investigate these shocking claims now published by BP. Word has come suggesting that the Commissioner Greenslade is unaware of the purchases, according to a former high-ranking police official.
"The haberdasher is not one of our official tailors. I can tell you that no such allowance is given to top cops. I know there have been one or two cases where some senior cops personally got their uniform made by this business, however, they paid for their French and English suits out of pocket. This seems to be an absolute abuse of government funds if this is true."
Bahamas Press would like to know if the allowance for fine clothing is now available to high-ranking officers, what is the budgeted amount for such fine threads?
We ask, why are the tailor made suits bought from the upscale, EXPENSIVE, haberdasher when we all know the Prime Minister at this time of great crisis is set to take a pay cut? We expect the limited funds now available in the public treasury to be spent prudently.
High-ranking officers of the Defence Force must pay for their suits; including young marines. In fact, as of January this year marines at the Base in Coral Harbour must pay for their own food.
BP is asking these questions because information has pouring into our newsroom on this matter and by early yesterday we've have seen the cheque drawn from the public treasury to the haberdasher.
We can confirm some $7,220 was paid by the public treasury check #640733 for eight English cut suits. We know what this mean. It means the suits were paid for and approved by executives in the finance department. But here's the kicker, the suits are not for the Commissioner of Police and from our source, the COP has not ordered any expensive clothing nor is he aware of the purchase.
In an exclusive last year, BP questioned funds, which went missing into thin air from the bank accounts of the Royal Bahamas Police Force. We uncovered the alleged plot by that high-ranking officer to raid funds from police bank accounts. We called then for an audit to be done on the police bank accounts.
Bahamas Press continues our investigations into these matters and asks the upper echelons of the Force to come clean and give an account of this hefty bill now paid to these fine haberdasheries in the country.