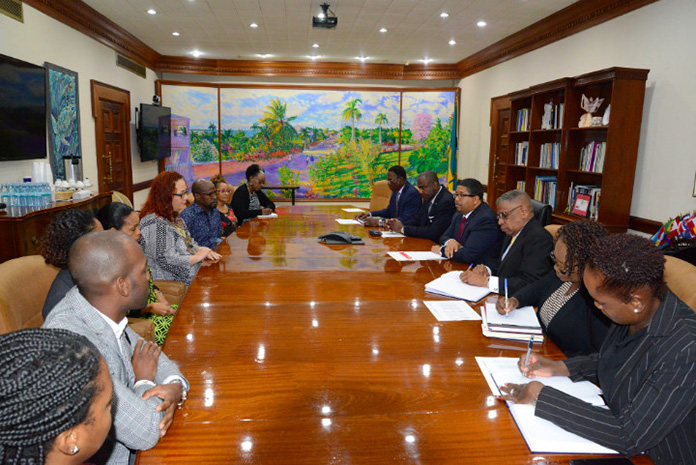 NASSAU, The Bahamas – Members of the CARICOM Regional Commission on Marijuana paid a courtesy call on Acting Prime Minister, the Hon. K. Peter Turnquest, Thursday, January 4, at the Cecil V. Wallace Whitfield Centre, ahead of Friday's scheduled Town Meeting at Holy Trinity Activity Centre.
Commissioners also held a working meeting with Acting Prime Minister Turnquest, who was accompanied by Bahamas Ambassador to CARICOM, His Excellency Reuben Rahming; His Excellency Joshua Sears, former Bahamas Ambassador to the United States who now serves as Senior Policy Advisor in the Hubert A. Minnis Administration; and Mr. Jack Thompson, Permanent Secretary, Office of the Prime Minister, along with officials from the Ministry of Foreign Affairs.
The Regional Commission on Marijuana was established by the decision of the Twenty-Fifth Inter-Sessional Meeting of the Heads of Government of the Caribbean Community (CARICOM), in March 2014 in St. Vincent and the Grenadines.
Heads "mandated" the establishment of a Regional Commission to address the issues identified and any other deemed relevant in order to provide clear guidance to the Conference with regard to decisions to be taken.
The Commission is headed by Professor Rose Marie Bell-Antoine, Dean of the Faculty of Law, University of the West Indies, St. Augustine Campus, and is composed of practitioners with expert knowledge in a variety of disciplines including medicine and allied health, health research, law enforcement, ethics, education, anthropology/sociology/culture.
Professor Bell-Antoine led the contingent of Commissioners and was accompanied by Dr. Alana Griffith (Barbados), Dr. Maxine Gossell-Williams (Jamaica), Mr. Dornah Harrison (Jamaica), Ms. Esther Best (Trinidad and Tobago) and Dr. Kishore Shallow (St. Vincent and the Grenadines). Bahamian, Bishop Simeon Hall also serves as a Commissioner.
The Commissioners were accompanied by Ms. Beverly Reynolds, CARICOM Staff Coordinator, and Ms. Anna Lisa Jones-Reis, CARICOM Staff Project Officer.
The objectives of the Regional Commission on Marijuana are to conduct a rigorous enquiry into the social, economic, health and legal issues surrounding marijuana use in the Caribbean, to determine whether there should be a change in the current drug classification of marijuana thereby making the drug more accessible for all types of usage (religious, recreational, medical and research), and to recommend, if there is to be a re-classification, the legal and administrative conditions that shall apply.
The Commission will examine the social, economic, health and legal issues surrounding the various aspects of marijuana use in the Caribbean and the implications, and make recommendations to the Conference.
The Bahamas is not the first CARICOM Member State in which Commissioners have held consultations. Commissioners most recently held consultations in Guyana in November 2017, and Antigua and Barbuda in May 2017.