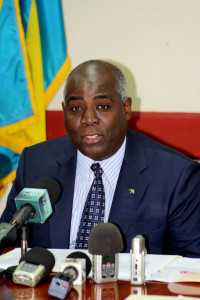 Elcott Coleby
Bahamas Information Services
BAHAMAS, Nassau – Acting Prime Minister the Hon. Philip Brave Davis, met with US Charge d'Affaires John Dinkelman to discuss public concerns expressed by the Prime Minister about a US State Department report titled "2014 Investment Climate – The Bahamas" and to secure a full and frank explanation of the report's perceived subjective content and unusual tone.
During this meeting, the Acting Prime Minister communicated the concerns of the country as expressed by the Prime Minister in a press conference earlier in the week.
At this press conference held on 1st July, Prime Minister Christie expressed disappointment and concerns that the negative tone of the report picked up in a similar fashion of wikileaks in reporting the political rhetoric of what opposition forces were advancing instead of the official policy positions of the government. The Prime Minister found this "puzzling."
"I am satisfied that those who sit and those who wrote the report for the State Department and made obvious mistakes in writing that report….in fact let me say personally as Prime Minister my disappointment because they picked up in a similar fashion of wikileaks of what opposition forces were saying and not what in fact an objective assessment of what the government was saying as a government since being elected and representing, and that's what I find so puzzling."
Further and more specifically, the Prime Minister pointed out one material inaccuracy in the State Department's report about the downgrade of the country's Sovereign Credit Ratings, a claim that could potentially damage the international reputation of The Bahamas, especially as it relates to Foreign Direct Investment.
Noting that the international credit rating agencies have supported the government's overall fiscal consolidation plan, Prime Minister Christie had this to say: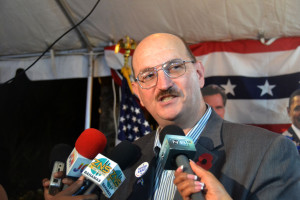 "On this score, I would wish to correct one statement in the State Department's assessment to the effect that that both Moody's and S&P downgraded our credit rating in 2013.  In actual fact, Moody's announced a downgrade in December 2012 but clearly stated that this reflected the worsening in the Government's balance sheet since 2007, largely on the basis of a low and inadequate revenue base.
"S&P did not downgrade our rating; rather they revised their outlook to negative in September 2012."
The US representative admitted that the report was a departure from the traditional format of other similar reports and assured the Bahamas Government that its concerns were duly noted, the report will be further reviewed and the appropriate measures will be taken. The government awaits the outcome of these measures.
The meeting was held at noon at the Ministry of Foreign Affairs, Cable Beach Nassau, Bahamas on the 2nd July 2014.