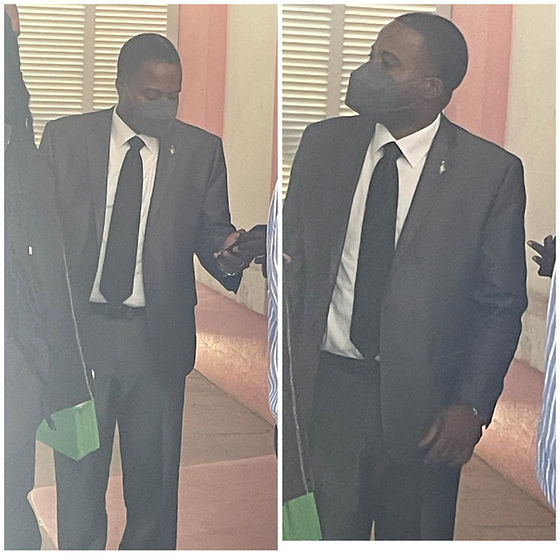 Embattled Long Island MP Adrian Gibson's lawyers are fighting to have the corruption case dismissed against him on the basis that his ex-fiancée Alexandra Mackey is being allowed to testify in his trial via video link.
Gibson did not sit in the prisoners dock in the Supreme Court today, even though other politicians tried in high-profile court cases in recent years were forced to sit in the dock.
Though he has been seen attending many public functions without a face mask since the mask mandate was removed by the government, Gibson also wore a face mask in court to conceal his face.
Following allegations that Gibson abused his power as Water and Sewerage Corporation (WSC) Executive Chairman to provide lucrative contracts to his then-fiancée, first cousin and campaign general, Mackey quit her high-paying job as a lawyer and moved to the United States, where she has since gotten married and had a baby.
Mackey, who was listed as a director in a company that received hundreds of thousands of dollars in contracts from WSC within months of being incorporated, agreed to testify against her ex during his trial.
However, she requested permission to testify via video link as she no longer lives in The Bahamas and didn't want to leave her new family.
Gibson's lawyer Murrio Ducille filed a constitutional motion on his client's behalf and argued that his ex-fiancée should not be used as a witness if she cannot testify in person.
Ducille also claimed the prosecution did not provide some documents to the defense in a timely manner.
In August 2021, the Gallery broke the story that Gibson awarded lucrative WSC contracts to Mackey, whom he shared a bank account with.
Leaked documents showed that WSC contracts worth hundreds of thousands of dollars were awarded to Elite Maintenance, which listed Mackey and Gibson's first cousin Rashae Gibson as directors.
In 2021, Mackey's name appeared in a police report filed in an unrelated matter by Gibson who told officers that he and Mackey opened a joint account at Royal Bank of Canada's Cable Beach location.
Other leaked documents also revealed that Gibson's campaign general in Long Island also benefited from fat WSC contracts.
Last summer, Gibson appeared in the Magistrates Court on charges of abuse of power while he served as executive chairman of WSC under the Minnis administration.
Gibson, a lawyer, faced a total of 56 counts on allegations that he failed to declare his interest in contracts awarded by the corporation.
Prosecutors allege that Gibson gained a financial advantage of more than $1 million from contracts granted Elite Maintenance and Baha Maintenance and Restoration and that he laundered the illicitly obtained funds by purchasing properties and vehicles.
Six others were charged with Gibson. However, one of his codefendants has since changed her not guilty plea to guilty.