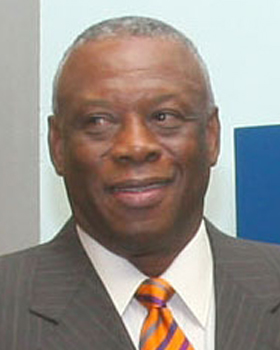 Retired senior banker, former Chairman of BEC and Bank of The Bahamas, Al Jarrett, sets the record straight on BEC.
In a three part exclusive including one on the budget, Mr. Jarrett has told BP, "When the FNM government stop spreading lies on my prudent and sound management of BEC, then I will stop speaking the truth on its mismanagement of BEC and poor stewardship of the Bahamian economy."

By Al Jarrett

REF: Forensic Report on BEC
Further to our recent conversation (Christie/Jarrett), I wish to add to my report highlights of additional supporting information on BEC during my tenure.  This should put a sharper focus on the major achievements experienced in BEC in the areas of capital investments in new fuel efficient plants and maintenance, financial stability, improved profitability, improved systems losses and customer service, i.e. more reliable electricity service.  Following therefore are these power points:-
1.        CAPITAL INVESTMENTS –  OVER $300 mil  (2003 – 2007)
BEC's record will show that for the period 2002 – 2007 over $300 mil was invested in the purchase of new fuel efficient plants in New Providence and the Family Islands, including the installation of major transmission lines and upgrades to existing plants throughout the Family Islands.
This amount included over $175 mil spent during the period 2003 – 2005 and approximately $135 mil spent from 2005 to 2007.
2.      We note with interest that the current Finance Minister and the Chairman speak consistently about the loss to BEC of $100 mil in revenue due to the tariff reduction in 2003.  However, he avoids speaking about the improved revenue position and cost effectiveness introduced to BEC to increase profitability during the same period.
NOTE: Please refer to subsequent updates on pages 3,4,5 &9
Page 2
In response to this statement – the Minister did not take into consideration BEC's strategic objective to improve revenue and contain operational costs.  This amount represented some $50 mil per annum or over $250 mil during the same period spoken about by the Minister, off-setting this particular loss of revenue.     The evidence is clearly laid out in Pages 8 and 9 of my Forensic BEC report.
In fact, the record will show on Page 5 that as a result of our cost-effective and cost-efficient management of BEC resources, BEC's revenue increased by $54 mil in 2005 and by $70 mil in 2006, despite a 40% increase in oil prices by $47 mil. in 2006.
We also reduced operations maintenance and administration expenses by almost $10 mil in 2004 –  the lowest level since 2001.
It is basic business knowledge that you can only improve profits from two sources – increased revenue and reduced costs .  The FNM are only looking at one side of this equation – revenue.
3.    Government Guarantee and Capital Development Costs
During my tenure, despite BEC raising over $300 mil to purchase new plants and refurbishing existing ones, these funds were raised from (1) internally generated cash flow funds and (2) bank loans, without any Government guarantee required.  They were done with the Banks and manufacturers on the strength of BEC's improved financial strength since 2002.  Please refer to Page 6 for further details.  A weak Corporation could not have received this type of market acceptance in borrowing money.
4.    Evidence of BEC's Financial Strengths
Clear evidence of BEC's improved financial strength in 2004 was indicated in the fact that we gave back $18 mil in tariff reductions in Oct 2003, resulting in a short term hit in our revenue, which came in at $258 mil, a negligible increase of
Page 3
$1 mil over 2003.  Yet 2004 was arguably the "best year in the 70 year history of BEC" in terms of cash flows, profitability, working capital, non-oil related expenses  ($10 mil) and improved collection of BEC receivables from Government and reduced technical losses (stealing) by as much as $15 mil.
All this was achieved despite a heavy exchange loss of over $4.5 mil on the IDB loan in 2004 and the purchase and installation of the 100,000 new Automatic Meters costing $10 mil   Please refer to Pages 8, 9, 11 and 12. This, combined with the Audit conducted on all commercial accounts, had the impact of significantly improved customer service and increasing BEC's revenue lost from meter tampering and stealing.
5.     (A)    We recently heard the Junior Minister report that BEC has $99 mil in outstanding receivables and $134 mil in accounts payables on its books.
I dare say that all media reports earlier this year coming from this source indicated over $35 mil in outstanding receivables. When did this change happen?  Furthermore, I wish the Minister would confirm how much of this accounts payable was oil related.  In fact, please explain how much of this loan request is being used to pay off an existing unsecured B$123 mil loan BEC took from First Caribbean in the form of an overdraft during the Oil Crisis of 2008 to pay oil bills, provide working capital for the new Abaco Plant and minor working capital requirements.  Additionally, I am reliably advised that BEC borrowed another unsecured B$25 mil loan from ScotiaBank between 2008 and early 2009 and these two loans totaled $148 mil. At that point, this did not represent a part of the national debt, as it was an unsecured loan on the books of the Corporation.
*    (b)    The Minister further stated that BEC will not only need this $211 mil, but will need another $300 mil in future loans for capital purposes.  Well, when was all this discovered? What was Government's plan prior to 2009 to address this drastic situation which started since 2007?  What the Minister mislead
Page 4
Parliament on was that the request he was making for $211 mil guarantee includes this  B$148 mil and the difference of
approximately $65 mil represented the refinanced IDB loan which already carried a Government guarantee for ten years, expiring 2013 and costing BEC $3 mil to pay for a forward contract with Scotia Capital Markets in order to cap the interest rate on the loan at 4-1/2%.
I also put it to the Government that a significant portion of these new    capital projects are related to those that have been postponed since 2007, which are now incurring these escalated costs.  A case in point, BEC Abaco's capital needs to build a new plant were – $45 mil between 2005/2006.  It's now increased in 2009 from reportedly $70 mil to $90 mil and now $105 mil, all in one year.  It is absurd for BEC to invest over $100 mil in an  Abaco plant, which only contributes no more than 4 – 5% to BEC's total revenue position.  In fact, the entire Family Islands only contribute slightly over 15% to BEC's total revenue.  Surely, we can find a more cost-effective way to provide adequate energy to Abaco.  Actually the Abaco plant is currently losing money and has been doing so in recent years.  BEC can never recoup its return on this loan exposure due to economies of scale.
* Special Note         (1) The Government therefore only required a guarantee of $148 mil and not $211 mil. (2)   What happened to the $3 mil forward contract that BEC purchased to expire in 2013 as this was tied to the life of the IDB loan?  Was it cancelled, still in place or did BEC receive its money back? (3) Why did the Minister come to the House and not tell us that the refinanced IDB balance was rolled into this particular request to the House for $211 mil when he knew that it had nothing to do with BEC needing a new guarantee on this loan.   He further mislead the House by stating that the  Banks were not prepared to continue to carry these loans when he knew that First Caribbean was only being harassed by their Head Office in Barbados to regularize the $123 mil loan on their books which BEC accumulated to pay oil bills and inject monies into the new Abaco Plant, etc.  In other
Page 5
words, this debt was created by BEC and the FNM in 2008.  The refinanced IDB loan balance of ($68 mil) was the amount outstanding when the FNM came to the House requesting this new guarantee.  Prime Minister Ingraham and Minister Laing clearly misrepresented the facts to Parliament and the Bahamian people to which they deserve an explanation.
(c)    Is the Minister aware of the fact that during fiscal 2002 BEC was owed $104 mil in receivables on a revenue base
of $224.8 mil? Yet BEC made a profit.  Is the Minister aware that the FNM Government owed a gross $65 mil of this, representing 25% of BEC's total revenue?  Even when you net out the Government's stamp duty
(7%) and customs duty (10%), the figure amounted to $59 mil.
The PLP Government brought this figure down significantly to $17 mil by 2004.  Please refer to Pages 6 and 7 for details.
This is called good proactive management by BEC of Government's resources.
6.    The IDB Refinancing    – $128 mil.
I really don't think that any credible analyst (even a good FNM  analyst) can still be making the case that the refinancing of the IDB loans was a bad idea.
However, let me make the following points to assist those who still stubbornly hold on to this view:-
•    The IDB loan was done based on the Euro-dollar loan rates (LIBOR) and was based on 3 months LIBOR which  averages 2% from 2003 to 2008.   In 2009 this is now down to 0.60%, a historic low.  This adds to the long list of credible reasons why this move was a good one in terms of interest rate costs.
Page 6
•    BEC was paying the IDB an interest rate of over 385% higher than the Euro dollar rate that BEC opted for when it refinanced the $128 mil. IDB loan in 2003.
•    BEC was also absorbing foreign currency losses on the loan, the last loss being over $4.5 mil in 2004, while the
•    Euro rate to US dollars was US$1.35 to 1 Euro.  The dollar continued to weaken against the Euro to an all time low of US$1.60 to 1 Euro in 2008.  The current rate is now an average of US$1.30 against the Euro.
To put this in perspective, the rate on this exchange in 2002 was US$.98 to 1 Euro at that time. Consequently, by the refinancing BEC was able to save a minimum of $15mil per annum from this arrangement.
I leave the analysts to determine what additional losses BEC would have incurred given the continued weakening US dollar against the Euro from 2003 through 2009.
•    In order to guard against any potential wide fluctuations in the Euro dollar rates, BEC also purchased two five year forward contracts from Scotia Bank Capital Markets, New York  to cap the new Euro dollar loan interest rate at 4.5% for 10 years, representing the full life of the loan, which was arranged to mature in 2013.  As a result of this contract, any increase in the interest cap rate during the life of the loan would accrue profits on that amount from Scotia Bank.  This provided BEC the needed protection to plan its annual budgets with a predictable rate stream.  Please refer to pages 10 – 12 for further details.
I don't think this case needs any further explanation,     because the reasons for the decision make it self-evident.
Page 7
7.    Oil Prices
BEC paid $116 mil and $117 mil for its oil in 2003 and 2004.  By 2005 this amount had increased by over $47 mil, which undoubtedly started to have its first real impact on BEC's profits by 2006, creating a small loss of $2.9 mil.  As I am advised, these prices continued to soar to unprecedented levels after 2006,  exceeding  $350 mil by 2008.
It is therefore obvious for all to see that this fact, combined with the weak management of BEC's resources and heavy political interference, are the real reasons for BEC's current dilemma.  It certainly could not be as a result of what happened in 2003, 2004 or 2005, when the Corporation's profits grew annually during these years.  Combined increase in revenue in 2005 and 2006 amounted to $124 mil. and this was achieved prior to the high increases in oil prices commencing 2006 and beyond.  To make such a leap that these years were blamed for BEC's current problems is too much of a stretch of the facts reported by the Auditors.
8.    Macro Economic Reasons and Benefits from Rate     Reduction
To fully appreciate the genesis for this rate reduction, one must fully be aware of the following:-
•    BEC increased its tariff rate to the public for five consecutive years from 1989 to 1993 @ 5.25% p.a., totaling 26.25%.  This was done on the advice of the IDB to assist with the completion of the Family Island Electrification Program.  The public paid a huge price to BEC and the Government during this period.
•    During 1994 the FNM Government added a new tariff increase of 10% to BEC in the form of customs duty without any discussion with BEC's management.  This was in addition to the existing 7% stamp tax.  BEC has since
Page 8
paid close to $200 mil to the Government without being     allowed to recoup this 10% cost from the public.
•   Further exacerbating this problem, by 2002 the FNM Government took the liberty of enjoying "free electricity" from BEC up to $56 mil net of the stamp tax, as well as the 10% Customs duty.  This created additional carrying costs of $7 to $8 mil per annum in lost revenue to the
•    Corporation.  These two actions by the FNM administration cost BEC conservatively over $220 mil in lost revenue from 1994 – 2007.
•    BEC's tariff reduction in 2003 represented the second largest stimulus (behind direct foreign investments) to the Bahamian economy during this recessed period.   As a result, every Bahamian household, business and Government enjoyed increased disposable income and revenue as a result of this historic action. Additionally,   the housing and construction industries felt the impact from this stimulus from 2005 – 2007, which was reflected in the huge profits made by Banks and Mortgage Companies during that boom period.
This decision, therefore, cannot be measured or viewed by     narrowly looking at one side of BEC's Financial Statement .
It was done not     only for the reasons already mentioned but     also to improve     the hotel sector's competitive position,  as     they had been  complaining  to Government of these high     utility costs which were putting them at a disadvantage     with their competitors in the region.
Thus, in measuring its benefit one must view it in     conjunction with the economic boom from which the     Bahamas benefitted during the period 2004 to 2007.  This     tariff benefit is even more evident now during the     current recessed economic conditions.
Page 9
This decision made by the PLP administration was done with strategic vision and objectives for the good of all and the improvement of the Bahamian economy.
MR. CHRISTIE'S COMMENTS:
" In conclusion, Mr. Jarrett's Forensic Report is very revealing and accurately reflects what took place in BEC on his watch  and I advise all those associated with BEC, including IMF
and IDB to regard it as preferred reading material.  BEC had a clear vision and mission which he and his executive management team presented to me and my Cabinet in a report on September 9, 2003  (a copy is attached).  They went a long way in achieving the objectives borne out of BEC's Vision and Mission statements contained therein.
The total blame for BEC's current problems must therefore rest with the FNM Administration's management of BEC since June 2007.  They must recognize this fact and move with a forward looking vision born out of a current strategic plan to now take BEC to the strong financial position it enjoyed during the period of 2003 – 2006, notwithstanding the impact of the high cost of oil on these profits."
The FNM Administration must now explain what they have done in tangible terms to improve BEC's financial and structural position since they have been in office, now 35 months.
We know that the FNM Government brought in a group of German Consultants in 2009 with as many as fifty or more walking throughout BEC and we have yet to see a report from them.
In March 2010 the Government hired another group of consultants Canadians, the EMERA Group to do what they call  a sixty day audit of BEC purportedly to tell BEC how to manage the Corporation, collect its money and serve customers properly, but what they are not saying, is that this is the same
Page 10
group who Government is in serious discussions with to purchase a part of BEC before they demit office in 2012.
Why would they put the "rat to mind the cheese if the rat is going to buy the cheese"?  Why has the Official Opposition not been told about this?
Evidence exists in BEC to substantiate this fact.  The truth always reveals itself in time.  We shall wait and watch.