When will the new government learn how to get its PR game together! EDGECOMBE IS SPELT: "E.D.G.E.C.O.M.B.E"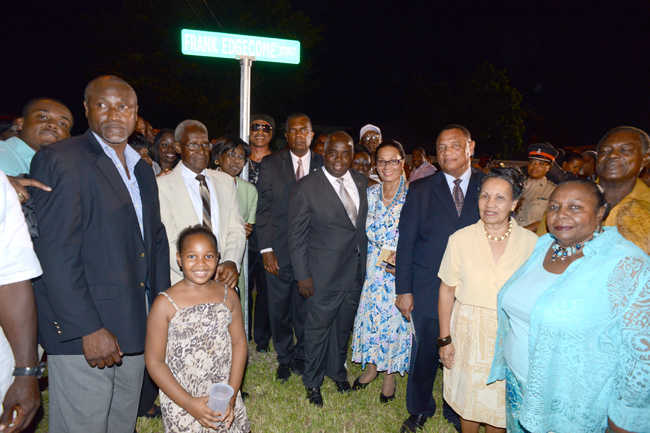 Bahamian former parliamentarian and educator has street named in his honour
NASSAU, Bahamas — Prime Minister the Rt. Hon. Perry G. Christie said he saluted Dr. Frank Edgecombe not just as someone who successfully represented Fox Hill in politics, but also as someone who has given yeoman's service to the teaching profession and his church, thus helping to shape the lives of hundreds of young children who have become productive citizens of the country.
The Prime Minister was speaking at the Street Renaming Ceremony from Springfield Road to Frank Edgecombe Street, Thursday, August 8, 2013.
Dr. Edgecombe was among the first group of 30 teachers, who were pioneers of The Bahamas Teachers' College.  He taught for 26 years and was a founding member of the Primary Principals' Association.  He was honoured by that body in 1990 in recognition of "long and outstanding service" in the field of Education in The Commonwealth of The Bahamas.
He also served as a Member of Parliament and the Mt. Carey Union Baptist Church as Sunday School Superintendent and Financial Secretary.
Prime Minister Christie said, "The meaning of Frank Edgecombe's life today is that he has done enough things in his life for us to lift it up as an example of a man who was not born with a silver spoon, but who willed his way through life, improving his circumstances of life, educating himself and always giving back in return for what God has given him."
He told Dr. Edgecombe, "I salute you for what you have done for the membership of Mt. Carey for the young ones who came in letting them know the old fashion religious way that if you are good you are going to heaven and if you are bad, you are going to hell and what that means in terms of the principles of good citizenship, behaviour and conduct, respect for elders, respect for neighbours."
The Prime Minister said one of Dr. Edgecombe's grandsons recently reminded him of what the educator has done for the country.  As a result, Prime Minister Christie said he was inspired to honour Dr. Edgecombe for his extraordinary service and for being a source of inspiration for the younger generation.
"For you to be alive to hear us is the important issue for me today.  To be able to express a sense of gratitude to you, and I do so today on behalf of the people of The Commonwealth of The Bahamas.
"God has graced you with a life that has been long and fruitful and that which most certainly serves as an example not just to your community but to the people of The Commonwealth of The Bahamas."
Prime Minister Christie also noted that the young men and women elected to Parliament do not know who their predecessors were and it is up to the older generation to educate them.
"It is therefore a real privilege to remember the times we shared in Parliament, to remember the service you gave to the people of The Bahamas and to say to you, may God grant you peace and serenity in the years ahead."
He also praised the wife of Dr. Edgecombe, Clementina, saying she has "matched Dr. Edgecombe step for step".
The Prime Minister told Dr. Edgecombe, "The strength of your life has been the partnership you have had with a lady who has served you magnificently and stood by your side throughout all of these accomplishments you have had post your marriage.  So I thank and salute her and I know she shares this occasion with you."
Dr. Edgecombe and his wife have nine children, a number of grandchildren, great-grandchildren and several great great grandchildren.
Celebrating the honour with Dr. Edgecombe were Deputy Prime Minister the Hon. Philip Davis; Minister of Foreign Affairs and Immigration and Member of Parliament for Fox Hill the Hon. Fred Mitchell; Minister of Labour and National Insurance the Hon. Shane Gibson; Dame Marguerite Pindling, the first female Member of Parliament the Hon. Janet Bostwick and many of the people of the Fox Hill and surrounding areas.