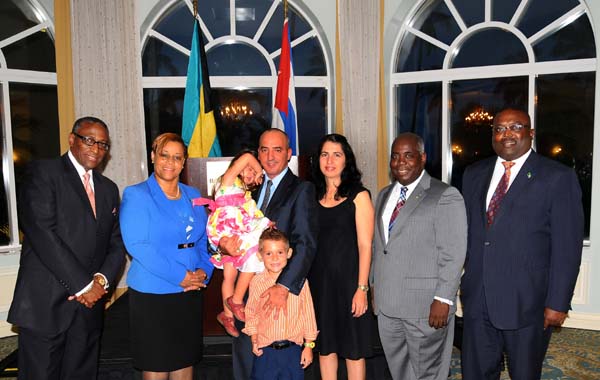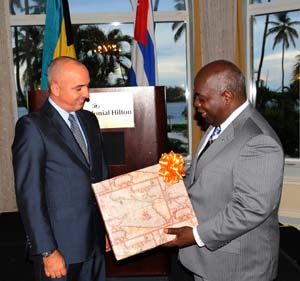 NASSAU, The Bahamas – The tenure of Cuban Ambassador to The Bahamas, His Excellency Ernesto Soberon Guzman has ended after four years in the post. Ambassador Guzman and his family leave The Bahamas on Friday, September 25, 2015. A Farewell Reception was held in his honor at the British Colonial Hilton on Wednesday evening, September 23.
Deputy Prime Minister and Minister of Urban Development the Hon. Philip Davis on behalf of the Commonwealth of The Bahamas gave remarks and made a presentation to the Ambassador at the Reception, which was attended other Cabinet Ministers, senior officials, and members of the diplomatic and honorary consular corps.
Ambassador Guzman also gave remarks and toasted to the friendship of The Bahamas and Cuba.
This year, The Commonwealth of The Bahamas and The Republic of Cuba will celebrate 41 years of diplomatic relations, which were officially established on November 30, 1974. In that time, the two countries have signed a number of agreements beneficial to both.
Notable among the various agreements has been collaboration in health and education.
The Bahamas and Cuba signed a cooperation agreement in August 2003 between their respective Ministries of Education, which provided for Cuban specialists to teach in government senior and junior high schools for a period of time. Since then, many Bahamian students have studied and continue to do so at Cuban institutions in the fields of medicine, economics and engineering.
To date, over 400 Bahamians have benefited from the "Operation Miracle" eye programme, which has enabled those with eye impairments to receive medical assistance from Cuba free of charge.