The Union of Black Episcopalian is holding its 50th Anniversary in the Bahamas! And they ga open their anniversary service in Christ Church Cathedral this MONDAY!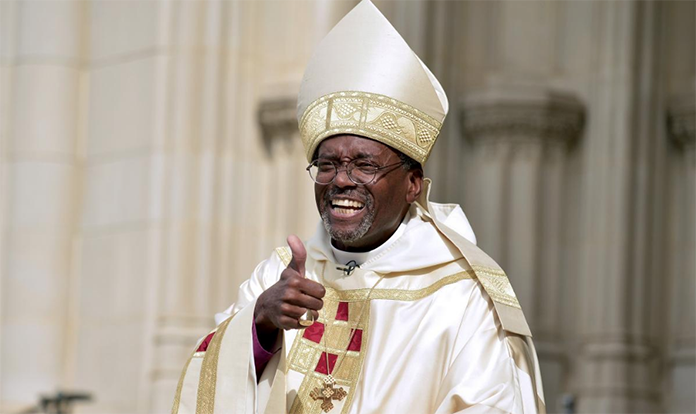 Nassau – In January 2016, Primates in the Anglican Communion gathered at Canterbury Cathedral, mother church of the global Anglican Communion, at the invitation of the Most Rev. Justin Welby, Archbishop of Canterbury. It was the first such meeting attended by Curry as presiding bishop.
Human sexuality and the Episcopal Church's July 2015 approval of same-sex marriage rites were prominent topics of discussion.
The primates in attendance unanimously resolved to walk together before a majority of Anglican primates also publicly sanctioned the Episcopal Church, for a period of three years, demanding that it "no longer represent us on ecumenical and interfaith bodies, should not be appointed or elected to an internal standing committee and that while participating in the internal bodies of the Anglican Communion, they will not take part in decision making on any issues pertaining to doctrine or polity."
In the aftermath of the sanctions, Curry maintained his public support for same-sex marriage stating:
"Our commitment to be an inclusive church is not based on a social theory or capitulation to the ways of the culture, but on our belief that the outstretched arms of Jesus on the cross are a sign of the very love of God reaching out to us all. While I understand that many disagree with us, our decision regarding marriage is based on the belief that the words of the Apostle Paul to the Galatians are true for the church today: All who have been baptized into Christ have put on Christ. There is no longer Jew or Gentile, slave or free, male or female, for all are one in Christ. For so many who are committed to following Jesus in the way of love and being a church that lives that love, this decision will bring real pain. For fellow disciples of Jesus in our church who are gay or lesbian, this will bring more pain. For many who have felt and been rejected by the church because of who they are, for many who have felt and been rejected by families and communities, our church opening itself in love was a sign of hope. And this will add pain on top of pain."
As part of the final communique from the gathering, the Anglican primates announced that the Archbishop of Canterbury would appoint a "task group" aimed at healing the rift and rebuilding of mutual trust amidst deep differences.
The Archbishop of Canterbury named Curry as one of the 10 members of that "task group" in May 2016.
In an interview with the New York Times Bishop Curry entertained the following questions:
Q. One of the most visible roles you have is to represent the Episcopal Church in the global Anglican Communion. At a meeting in January, you tried to make the connection between the exclusion and bigotry experienced by black people and the exclusion of gay people, telling primates of other Anglican provinces, many of whom are from Africa and have rejected the Episcopal Church's decision to bless gay marriages, "I stand before you as your brother, as a descendant of African slaves." What impact did that have on them?
A. What I was attempting to do was to describe the deep pain for L.G.B.T. folk who've had to live with not being accepted by the church of Jesus Christ. And sometimes by families and loved ones, and by society. I wanted my brothers to know that our actions would bring them real pain. I said, anytime anybody is excluded, it hurts. I can tell you in all honesty my brothers listened. They did listen.
Q. The primates still voted overwhelmingly to sanction the Episcopal Church.
A. I knew that was coming. But I wanted them to know, and I meant that sincerely, that this love of God is big enough to embrace all of us, and even embrace us in our disagreements. Love is big stuff, and it can save us all.
Q. Over the years, I have heard from many Episcopal leaders and laypeople the notion that those who are opposed to gay marriage and gay equality will eventually come around. That they will eventually realize they are on the wrong side of history.
Will Bishop Curry now sound his message in the Bahamas and wakeup the gender debate once again in the country.
We report yinner decide!