Rudolph Laroda King aka Rudolph Kermit King aka Dr. Rudolph Laroda is a Masonic Imposter!!!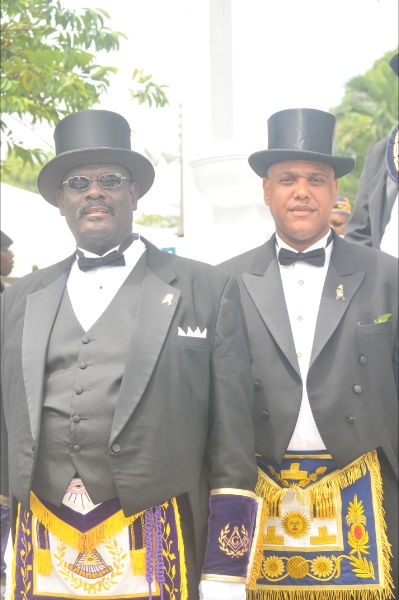 Nassau, Bahamas — Bahamas Press is following up a story, which ran on our page some months ago, that suggested that an imposter had invaded the ranks of the lodge here in the Bahamas.
Since we ran that post on one Rudolph King in reference to who made him a Mason, turmoil has hit the order.
We can report that an investigation has since been done into the matter, and it was found that Mr. King was not a Mason as he has claimed.
Further to his story, Mr. King presented the Lodge with a Mason certificate from St. Johns Lodge No. 9 located in Seattle, Washington.
Ya see, some people believe BP gat time for foolishness, but we ain't playing with yinner! Look what some people have allowed the order to come to!?
When further investigated, the society in Seattle stated through an e-mail that the certificate presented by Mr. King was indeed a fraudulent document.
It's UNBELIVEABLE!
Following the revelations, Mr. King was expelled from the lodge; however, his expulsion was reversed by the Supreme Grand Master of Modern Free and the WM of the Lodge removed from office for incompetence.
If ya don't laugh you would cry. What in the hell is this?
Someone, we know, does not want the truth to come out! Someone does not want the truth to be heard! Someone is bastardizing secret societies here in the country because 'FRIENDS, FAMILIES and LOVERS' are tighter than what is decent, right, good and truth!

Rudolph Laroda King aka Rudolph Kermit King aka Dr. Rudolph Laroda is a Masonic imposter.
What is amazing in all this is this fact – some want to kick people who have climbed the ranks honestly and have given back to the country without thought; while others could walk through the back door pillaging everything they hands could touch. And guess what, they get elevated to through the ranks fast-fast-fast. [BED SOLDIERS NEVER DONE!].
You wonder why you cannot get that promotion, job or contract? Try think what some people would do when the only "PAPER" they gat is the one they lay on the floor!
Boy, it is really something when what you do in the dark is more powerful than what is done in the light!
But [SSSSSSSSSHHHHHHHH – hush]… this ga be our lil secret for now.
We report yinner decide!