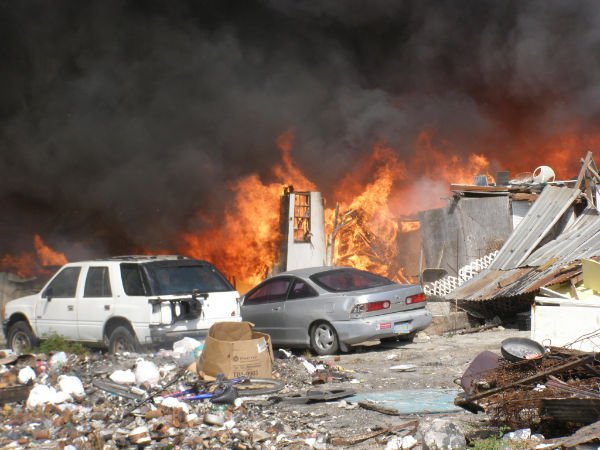 By Athama Bowe
Situated some half mile from the recently burnt out Haitian Village off Fire Trail Road, this one was also leveled, smack and smooth.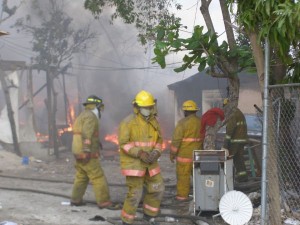 The residents believe that the fire started in one of the shacks where a woman was preparing a meal; the heavy winds fanned the flames quickly, which engulfed the box styled structures. This time, it would appear that the residents were able to save their belongings even though they are now without shelter.
The fire service, though challenged by high winds, low water pressure, the lack of a ready supply of water, poor access to the heart of the blaze and the abundance of fuel for the fire to spread, dug in and did a yeomans job to save the surrounding homes including a nearby sub division.
It should be noted that a detail from the Royal Bahamas Defense Force joined the considerable Police Team; the assistance was invaluable.
The questions whispered about by residents centered on whether and how Mr. Brenzil Rolle MP will now provide housing for the previous and now homeless immigrants at the expense of Bahamians.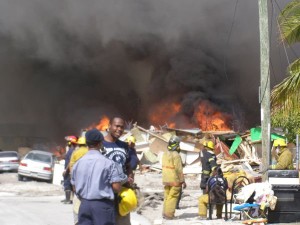 This sip, sip escalated to several heated exchanges between angry, concerned residents and apparent residents of the Village, who made threats because they felt nearby neighbours had burnt them out.
A revisit to the site of the first fire disaster of Boxing Day revealed that a part of Mackey Yard still stands and is occupied by tenants. The  Government Stop Order is clearly visible.
Any number of clergy leaders from the Haitian Community were seen providing words of comfort to the residents and several moved on to visit the o/c Supt. Paul Rolle of the Carmichael Police Division.
I thank Mr. Ethric Bowe for his telephone call advising me of this tragedy; fortunately, no lives were lost. The challenge to assist has gone to another level.