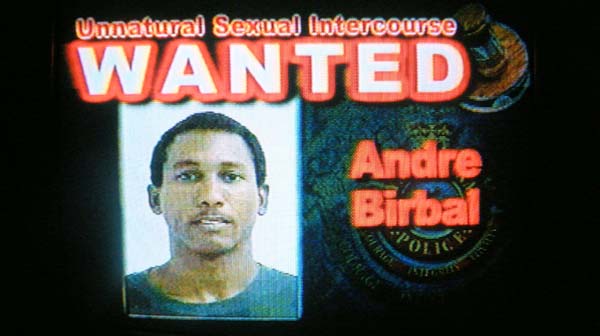 George W. Bush said it best when he told the world most wanted terrorists, "We'll hunt you down, smoke you out of your holes and get you running…but no matter where you run, we will find you!"
Andre Bernard Birbal has been on such a run far away from The Bahamas. He was caught in Manhattan early this week. With much jubilation today we the operators of this blog believe when we work together, we can do anything! Citizen journalists on here have come together and focused around the issue of SAFETY IN ALL PRIVATE AND PUBLIC SCHOOLS!
We're now happy to see that justice for children has taken it first lap of success. Yes, Birbal has been captured, but now we must as members of civil society see to it that he is given a fair trail. Bahamas Press wishes our thousands of readers to know, WE WANT BIRBAL SAFE!!! EVEN IF IT MUST MEAN THAT THE CASE IS HELD OUTSIDE OF THIS COUNTRY!
No one can deny that not only the parents and children of Eight Mile Rock wished a death sentence on Birbal, but we believe now that some SHAKING high-ranking officials in the Ministry of Education and on the Royal Bahamas Police Force, who participated and aided in his crimes, also would wish for him death. THIS CANNOT HAPPEN! THIS MUST NOT BE ALLOWED TO HAPPEN! And therefore Bahamas Press is calling on our International affiliate bodies to LEND PROTECTION TO THE SAFETY OF ANDRE BIRBAL due to the nature of this high profile case.
Birbal MUST BE PROTECTED from the carnal minds at Fox Hill Prison or those on the RBPF. We insist he must be given a fair trail! He must be protected away from those who can harm him and stop the TRUTH from being told! We the writers of this blog want to know all the facts from the man himself, and NO delay of that process should be allowed.
We want Andre Birbal to know, YES, we want to hear from you and wish a fair trail with international protection upon your return to the Bahamas.