Morning REPORT: Andre Rollins would rather Bahamians die like most FNM leaders if they cannot afford private expensive health insurance coverage!

The faces of three doctors who don't give a DAMN about Bahamians! ALL Working AGAINST BAHAMIANS!!!! Hubert Ingraham who supported NHI will now snatch Rollins from the PLP!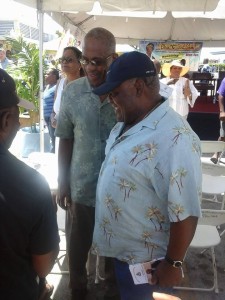 Nassau, Bahamas — Bahamas Press is not amused at all when we see health care doctors start speaking out against National Health Insurance. The first was Duane Sands, then Hubert Minnis and now the PLP MP for Fort Charlotte Andre Rollins.
What we at BP find despicable with the trio is the fact that they all agree to give Bahamians free medicine through the Prescription Drug Plan. They would agree with dosing and 'juicin' us up with all kinds of chemicals, yet they fail to believe in allowing Bahamians – unable to afford the high cost of private insurance – the right to have access to a universal coverage plan that will give them access to services most needed by the disadvantaged.
Rollins, who is a BIG SNITCH for Hubert Ingraham, is a student for PAPA and is right now weekly being recruited like someone from the Middle East Middle East against the PLP!
Rollins recently told the Tribune that if NHI is about imposing another tax on Bahamians, then he is not for the plan. According to the newspaper, Rollins "reiterated that he did not believe Bahamians should be burdened with additional taxes to fund NHI before a national lottery is implemented."
Strangely though, while in one breathe Rollins does not want tax dollars to help Bahamians get access to health services, he wants those same tax dollars to aid a failed insurance company, CLICO!? UNBELIEVABLE!
The hypocrisy some MPs get away with is just incredible, if you ask us.
During the Wednesday, March 18th sitting of Parliament, Rollins rose on his feet, seeking the answers as to when the Christie Government will move to find millions [in TAX DOLLARS] to save/bailout Clico and its policy holders, honouring a former administration's commitment to a $30 million guarantee for the failed insurance company.
Rollins said, "Since being elected to power in 2012 we have been asked to deliver on the promises we made while on the campaign trail and, like many members of this House, I, too, have constituents that are either former or current policy holders of CLICO.
"Seeing that we are discussing a Bill that talks about promoting sound regulatory authority and the detection of the welfare of the people I wish to speak on behalf of the people who call me and ask me on the street when they see me about CLICO…"
Members of the public should know Andre Rollins has not held a single meeting in Fort Charlotte for more than a year! He has no commitment to the branch and has not attended one single branch meeting of late.
We wish the branch would write a letter to the editors and apprise the general public of the lack of his commitment to the people of that community!
Secondly, why should the government of the Bahamas commit itself to bailing out a private company before helping Bahamians through NHI, which will grant them needed affordable access to heath services?
Right now the high costs of health care services have made it impossible for Bahamians without proper healthcare coverage to access the needed services to treat their conditions. Today, if you have the coverage, you live, but if you don't, you die! Andre Rollins would rather Bahamians die if they cannot afford private expensive health insurance coverage! That is the long and short of it!
Andre Rollins has no damn shame! He supports helping BIG BUSINESS while standing in the way and against health services denied to the poor!
And, to be quite frank, we don't expect any better out of him – and his friends Minnis and Sands – who are never on the side of PEOPLE but rather on the side of big business!
We report yinner decide!