Christie's Vision on the road to food self-sufficiency is on the way!!! Press and officials visit BAMSI in North Andros ahead of start of classes…This is good!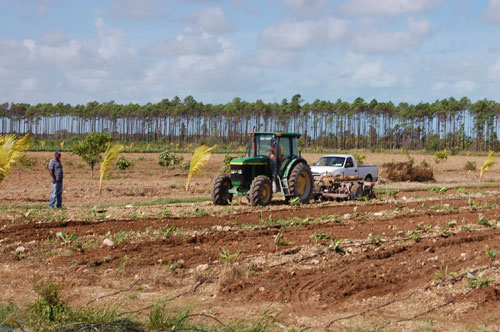 New Jobs, More Food and Andros … the sleeping giant… is set to come alive!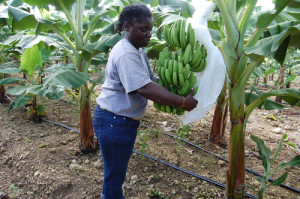 North Andros, Bahamas – Minister of Agriculture, Marine Resources and Local Government the Hon. V. Alfred Gray led a team of Government officials and the press to view the progress of establishment of the Bahamas Agriculture and Marine Science Institute in North Andros where 50 students will begin classes at the end of September under the guidance of Executive Director Dr. Raveenia Roberts Hanna.
Minister Gray, proud of the progress so far and looking forward to the start of school, said "it's always good to do good" – anticipating the future important role of the institute in energizing the push for food security for The Bahamas, and the meaningful steps being taken towards the long-held dream of the country's feeding itself.
Minister of Education the Hon. Jerome Fitzgerald, in light of strong efforts "to revolutionize and advance our economy and our people" urged that "we are one Bahamas, one people," and that we "try to move forward as one people" – and unite in the advance of education, agriculture, and sustainability – with 'sustainability' being the important objective. He noted that he and his team were amazed, during the process of choosing an Executive Director, at the great number of well-qualified young people in The Bahamas. In referring to the UTEB controversy, he reaffirmed that processes were taking place properly, that he was open to dialogue, and he asked for responsible leadership in the best interest of all.
Minister of Health and M.P. for North Andros and the Berry Islands, the Hon. Dr. M. Perry Gomez said it was remarkable what was happening in a short time on North Andros, which will have direct impact economically. He added, "it's a first real attempt to diversify our economy and create a second pillar of magnitude beyond tourism." He introduced the agriculture teacher at the North Andros High School, Mr. Rai Budhu, who had the vision to instill the value of agricultural skill in his students during his over 24 years of teaching at the school, such that his students for years have supplied a Cable Beach hotel with agricultural produce from the large farm created adjacent to the school in Nicholls Town. Now his students comprise many of the workers at the new institute.
Other officials included: Minister of National Security, the Hon. Bernard J. Nottage; Minister of State in the Ministry of National Security Senator the Hon. Keith Bell; and President of BAMSI Godfrey Eneas. Contractor Audley Hanna and Architect Livingston Forbes also assisted the tour.