New leadership team comes to ZNS!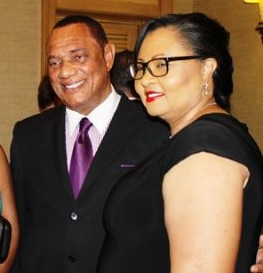 Nassau, Bahamas — The Cabinet of the Bahamas through the Broadcasting Corporation of the Bahamas has appointed Diana Wilson Swann to serve as General Manager of  the BCB. The appointment comes into effect immediately.
Wilson-Swann will replace Edwin Lightbourne.
Mrs. Wilson-Swann became the first woman to hold a top media post when she  served as Deputy General Manager of Freeport's northern service.
A pioneer in the field of journalism, Wilson-Swann demonstrated that, with talent, knowledge and action, much can be achieved.
The first female Anchor for Newsnight 13, the first female News Editor and the first female News Director are just a few of her accomplishments while employed at ZNS Northern Service.
It was in the early 1970s that Wilson-Swann's career began as an employee of the Bahamas Oil Refinery Company (BORCO), soon to be followed by the Freeport News as a reporter.
Following a number of years in print media, Wilson -Swann joined ZNS Northern Service in her mid 20's as a radio news reporter, quickly becoming a recognized and trusted voice.  After years of working in radio, another opportunity to spread her wings became available.  The introduction of television news on Grand Bahama was a welcome addition and heading the news desk was Wilson-Swann, who became the first lead and female Anchor.
The leader of a number of hurricane teams providing coverage for the Northern Service, Wilson-Swann's ability to take hold of listeners became evident when during the storms of 2004 and 2005, she was able to bring calm to a community on the edge, both during and after the storms.
The Host of a number of programs at ZNS Northern Service including; For The Record and Eye on Health, Wilson-Swann covered many local, national and international assignments.
Instrumental in the opening of the ZNS Abaco office and the master mind behind the community page on television, under Wilson-Swann's leadership, there was a tremendous upswing in revenue for the BCB's Northern office, with over one million dollars being raised in a year's time.
Born in Fresh Creek, Andros, Wilson-Swann married John Swann (deceased) in the year 1988. She has three children, Gevin Adderley, Garrette Aruschka Lydell, and Jondee Swann, adopted daughters Tyrina Whylly, Charlisa and Shae and adopted sons, Jordache and Joedy Swann.