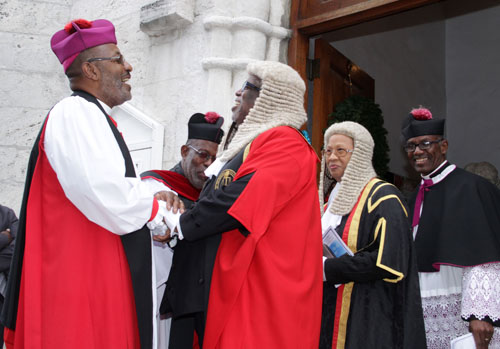 Nassau, The Bahamas –Members of the legal profession led by Chief Justice Sir Michael Barnett joined in worship at Christ Church Cathedral, George Street, to mark the opening of the Legal Year on Wednesday, January 8.
The Very Rev'd Patrick Adderley, Dean and Rector of Christ Church Cathedral officiated. Justice Vera Watkins, Magistrate Andrew Forbes and Donna Newton, Supreme Court Registrar, led the prayers and scripture readings. Dr. Sparkman Ferguson was the organist.
Also attending the annual service was Governor-General Sir Arthur Foulkes and Lady Foulkes, Attorney General and Minister of Legal Affairs Senator Allyson Maynard-Gibson, Minister of State in the Ministry of Legal Affairs Damian Gomez; members of the Court of Appeal, Supreme Court Justices, Magistrates, Deputy Commissioner of Police Quinn McCartney, Government officials, and students and teachers of C.R. Walker High School.
In his sermon Rt. Rev'd Laish Boyd, Anglican Bishop urged those present to have love, be responsible, honest, hopeful and Godly.
"All of us have responsibilities to our selves, families, country and profession. Many depend on you including the poor, vulnerable and the ordinary. I call on you to ponder your responsibility and do your best," said Bishop Boyd.
He encouraged the members of the legal profession to keep hope alive with regard to the challenges of loopholes in the system, antiquated legislation, an overcrowded prison etc., which the country presently faces. Bishop Boyd called to dishonest members of the fraternity asking them to conduct self-introspection and soul searching.
Regarding the virtue of love, Bishop Boyd said love can break barriers and bind what is broken in a way that nothing else can.
"I charge you to be Godly, fear God and do not let the pressure of life, accomplishments or any other prize cause you to think you do not need to fear him."
He said The Bahamas can overcome its troubles if the church, government, people, business community and other agencies are motivated and work together.