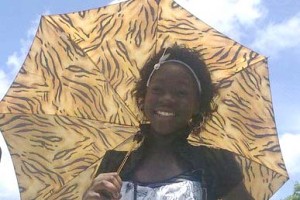 Nassau, Bahamas — Bahamas Press is following a series of abductions right here in the capital, which is happening every week now against young boys and girls. This child shown here, is believed to be the latest victim of these "VICKED' CHILD RAPIST' now on the loose in the community.
We are told the 7th grader went to school Wednesday morning, and was last seen when she left school on that same afternoon. Family members of, Jerrel Johnson, say they are upset and cannot come to grips with what may have happened to the young girl.
Flyers of the missing twelve-year-old student are being placed alongside a number of others who have disappeared in New Providence. Family members took to the streets early this morning to circulate photos as they search of the adolescent begins.
Bahamas Press has now joined the search on all our networks as we heighten awareness to this growing vexing problem in the Bahamas [Crimes Against Children]!
A few weeks ago students at the College of the Bahamas foiled the attempted abduction of a junior as she exited the campus in Oakes Field. Eyewitnesses tell us, that female student was being dragged into a jeep as she screamed for help to fight off her abductors. Her actions alerted students and foiled the attempt.
The growing cases of abductions and sexual incidents against children are fast becoming the norm in the society, where weak sentencing practices by a judiciary on its knees have branded the system corrupt!
Marco Archer's case  this summer proved painful for a family when the 11-year-old Columbus Primary student failed to return home after leaving on an errand to a store nearby. Archer days later found in a pond behind an apartment on Yorkshire Drive in Cable Beach. Kohfe Edwardo Goodman, AKA Elvardo Ferguson was formally charged this week for the abduction and murder of Archer. He was also charged for abducting and molestation two other primary schoolboys.
For your knowledge, BP reports Goodman was released from prison back in December 2010 after serving seven years for the murder of a young boy found stuffed in a garbage tin on Claridge Road. That incident took place in 2003.
With the Bahamas claiming the highest number of rapes per capita in the world, according to a United Nations report, the skyrocketing attack against children should concern authorities and the wider public. OUR CHILDREN ARE NOT SAFE IN A COUNTRY ONLY 21 X 7! Something has terribly gone wrong in The Bahamas, and MUMs the WORD from the Christian Council President. Things that make 'ya' go HMMMMMMM!
Anyone having knowledge of this incident should immediately contact police at the National Crime Prevention Office at 242-302-8430/1, Sgt.2026 Skippings (Press Liaison Officer) at 242-376-4378 or email ncpo@royalbahamaspolice.org. Additionally, persons with information can contact the family [Mother – Pearl Johnson] at 326-8734.