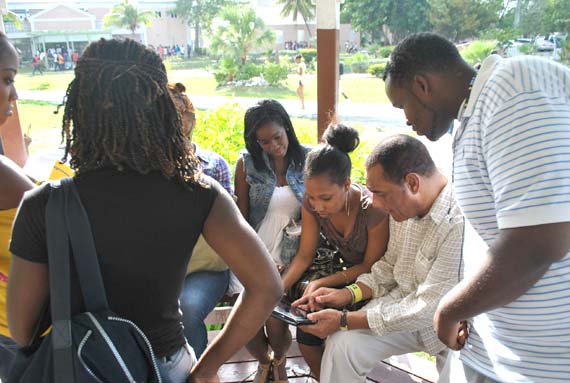 Nassau, Bahamas — PLP Leader Perry Christie paid a visit at the campus of The College of the Bahamas this week and heard the concerns, questions and suggestions of the students there. Christie noted its time to have a conversation with the young people of The Bahamas and went on record to suggest his PLP team is ready to join hands with the young people to transform the country.
A large crowd of students gathered as the Christie Eagle descended on the Oakes Field campus, where many students shared their struggles in the tough economy.
A few weeks ago PLP deputy leader, Philip Brave Davis, along with Fox Hill MP, Fred Mitchell, took the Party's message to students in London and Jamaica. Both assured young people their place around the table shall return under a PLP Government. The Party has crafted the message assuring a Christie led team shall deliver new opportunities for young people across the country.
Christie has gone on record during his Party's recent Southwestern Job Summit to double funding for education.
The FNM government has a dismal record towards education and young people since coming to office in 2007. The Outgoing FNM has not built a single school in five years. After failing in education, Hubert Ingraham then fired his Minister responsible for that department, Carl Bethel, who in agreement with the entire Cabinet, cancelled the student loan programme in 2009.
Then if that wasn't enough the FNM collectively and scandalously hijacked/ slashed grants to private schools [forcing an increase on school fees across the country]. The 'Vicked' decisions of the OUTGOING Ingraham Government further crippled young people; as they [FNM] decided to cut funding to the Children Emergency Hostel and the Ranfurly Home for Children – almost forcing the shelters for homeless children to close its doors.
And if all that was not enough, the Ingraham Government then raised UNGODLY taxes on young people as they levied taxes on books, pencils, bags, text materials and underclothes. Like heathens, Papa's regime attacked the Christian community as they collectively and satanically applied taxes on the Holy Bible back in 2008.
And now, after committing such backside rapes on the good people of the Bahamas, the OUTGOING FNM Government, with its heartless chest, are seeking support from the people they wounded with their abysmal failed policies. Keep ya eye on dem BAHAMAS!
We report…YINNER DECIDE!