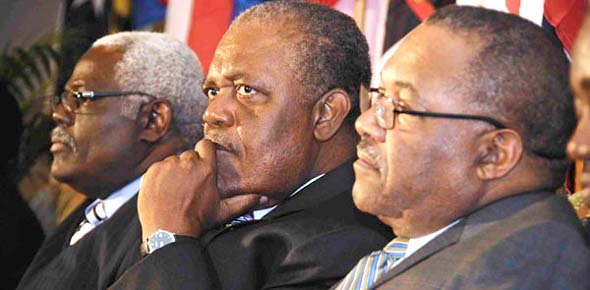 Vernae 'Da Village Idiot' Grant is no more carrying the Torch.

Breaking news now coming out of Grand Bahama …
Freeport, GB — BP can confirm both Kenneth Russell and Neko Grant will no longer carry the torch for the Free National Movement in Grand Bahama.
Our sources in the party's apparatchik confirmed late last night that Michael 'Crazy Boyyo' Pintard has finally found a home. He is set to replace The Uncircumcised Philistine [Kenneth Russell].
According to a well-placed source in the FNM, "Papa is treating Kenneth Russell and Neko Grant like he treated a lion of the party, Maurice Moore. He discarded him like toilet paper and dropped him in the commode. We on Grand Bahama do not like it. We hate the disrespect and will vote the FNM out!"
Meanwhile like the 'night of the long knives' in 1977 when Papa served as then Chairman of the PLP, with vengeance sliced and diced PLP candidates left right and centre, he is now doing the same with generals of the FNM.
Sources tell us that Norris Bain, a newcomer, is set to replace Neko 'Bad Roads' Grant, who we are told is taking multiple shot of gin and tonic at this hour at his popular hangout [The back seat of his car].
Other candidates to run in GB for the FNM are Zhivargo 'Crybaby Sour' Laing, who will contest Marco City, and Kwasi Thompson, who will keep Pineridge.
Vernae 'Da Village Idiot' Grant, who is dumb as Dora the doll and is being considered the Sarah Palin of the Bahamas, is no more and is still waiting on an answer from an email she sent weeks ago to Brent. She has not been favoured with a response, which we believe may come after nomination day.
We report YINNER DECIDE!
This one for NEKO 'BAD ROADS" GRANT….