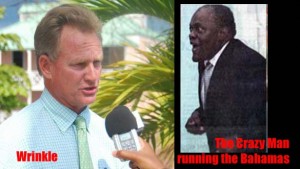 Nassau, Bahamas — Bahamas Press is down at the courts this afternoon watching the buses load up to transport prisoners back to the prison, and missing the bus this afternoon is President of the Contractors Association, Stephen Wrinkle, a BIGTIME FNM supporter.
Wrinkle was charged this afternoon in Magistrate Court #5 before Magistrate Derrence Rolle, for stealing ELECTRICITY FROM BEC!
Sources close to the investigation tell us the FNM goon was caught RED HANDED over the weekend having connected a supply line of BEC to one of his buildings. We are told Wrinkle was red in the face as he shook like a reed in front of the court as the charges were read.
He plead not guilty and the case was adjourned to October 17th, 2011.
Bahamas Press wonders, however, how is it Wrinkle walked in the court without cuffs, but last week, attorney Paul Moss appeared before the courts in shackles? Boy, justice is an invention of the devil.
We shall wait and see if the FNM PRESS [Guardian/ Tribune] and others will report the same as they did Moss' arraignment.
WE SHALL WAIT TO SEE! ANOTHER BIGTIME FNM CHARGED WITH STEALING POWER FROM BEC!
Lawd is rough!