Christie Government in severe turbulence less than eight months into the game…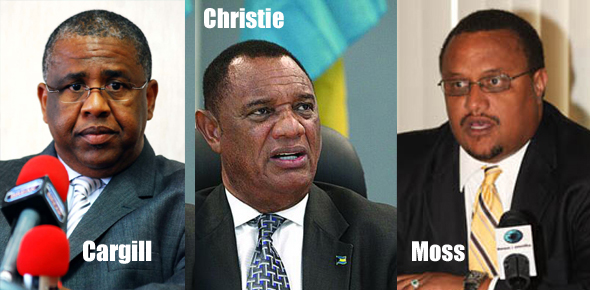 NIB Monkey Takes a Turn for the Worse! More Shocking Revelations to come following Moss Firing…BP renews call for Commission of Inquiry on NIB!!!

Nassau, Bahamas — Troubling is brewing in the halls of Sir Lynden Pindling Centre tonight as it has been confirmed that the  Chairman of the National Insurance Board has been fired by Prime Minister Rt. Hon. Perry Christie.
The move by Christie reminds BP how the last MP to be fired from NIB was Hubert Ingraham back in 1987. This is not good.

News of the developments late tonight have rocked the country and have reverberated around the nation just minutes after the communication was delivered to the chairman.
Just yesterday, NIB Chairman Greg Moss in a bold response to the crookedness at NIB revealed that he was still in possession of an NIB card and was still not being defended by his Party or his leaders in the PLP.
The MP for Marco City revealed he was pained to see how many of the allegations spewed about him were not defended by his leaders and therefore it was necessary for him to speak.
Tonight's news however is not surprising, where after an investigation by the Moss Board revealed shocking details to the reckless mismanagement of public funds by suspended NIB Director Algernon Cargill.
The Board exposed the fact that Cargill spent more than $240,000 on a corporate credit card and further wasted some $134,000 on an apartment in Sandy Port owned by his brother Godwin Cargill.
The Moss Board also revealed how one electrical company – Kenuth's Electric – was paid millions by NIB – and some confirm the owner of that company was a close friend of the director.
Unbelievable!
The government suspended Cargill on the revelations, but some believe he is still being handsomely paid, and that Cargill is getting away with the biggest heist in history.
Additionally, Bahamas Press broke the story that Cargill paid himself a $194,000 plus bonus over a two and a half year period. No member of the former Board save the chairman knew of the excessive bonuses.
Moss in his communication told the public yesterday: "My conscience is clear as is my resolution that should it ever be determined that my services as Chairman of NIB are no longer required, then it will be my honour to continue to serve the people of Marco City, and the wider Bahamas, from my seat in Parliament."
Mind you we warned the Christie Government that either it was to carry out the findings of the Moss Board, or face the music of an entire board tending its resignation. Well there you have it!
All we at BP say is this – "MORE TO COME!!!!"

We report yinner decide!