Man struck dead on Tonique Williams-Darling Highway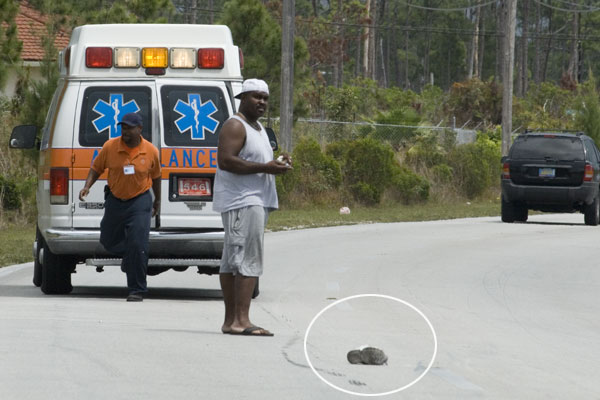 NASSAU, BAHAMAS — A traffic accident early this morning has left a man dead.
The incident reportedly occurred around 4:25 am on Saturday morning on a major highway.
From initial the victim was riding a bicycle west along Tonique Williams Darling Highway in the area of Workers House when he was struck hard by a Ford Mustang.
The man was taken to hospital where he succumbed to his injuries.
Traffic police who are investigating this latest incident are encouraging members of the public who cycle during the night-time to wear reflective clothing (i.e.jackets/vest/pants/) to increase visibility to the motoring public and to ensure that their bikes are out-fitted with a functional headlight and rear lights.
Officers also wish to remind members of the public that failing to remain at the scene of an accident is an offence which carries a fine of  not less than five hundred ($500)  and no more than one thousand ($1,000.00) dollars.  Investigations continue.
What is wrong with people in this country? Community must be outraged by attacks on Children!
BREAKING NEWS >>> SOMEONE HAD STABBED UP A CHILD!!! – IS THAT PERSON SANE?
Breaking News coming into Bahamas Press at this hour confirms the stabbing incident of the young 13-year-old boy. Police are investigating a stabbing incident that has left the child recovering in hospital.
The incident reportedly occurred around 11:30 pm last night. Now this is silly!
Preliminary reports indicate that the teen got into an altercation with a male and was subsequently stabbed multiple times. A CHILD!!!!
The victim was taken to hospital where he is detained in serious condition.