STATEMENT BY THE MINISTRY OF FOREIGN AFFAIRS & IMMIGRATION – On the September 2016 IACHR Petition of Fred Smith et al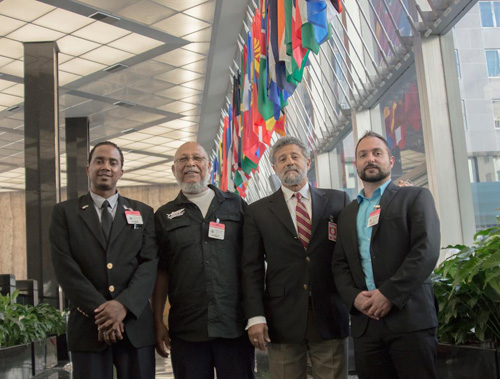 On 27th September 2016 the Permanent Mission of The Bahamas to the Organization of American States (OAS) / Embassy of The Bahamas, Washington, D.C. was notified by the Inter American Commission on Human Rights (IACHR) of a petition by five Bahamians (Fred Smith, Francisco Nunez, Joseph Darville, Kirkland Bodie and Romauld Ferreira) that their lives are in danger because of their political advocacy, and that some of them have had to flee The Bahamas. The Petition was made on their behalf by the Grand Bahama Human Rights Association. The petitioners seek to cause the IACHR to request that The Bahamas adopt precautionary measures to prevent irreparable harm to their lives.
The Ministry of Foreign Affairs and Immigration in its role as the competent authority of the Government is facilitating the Government's reply to the Petition.
It is a truism that highly visible and voluble civic engagement is a hallmark in every era of open, democratic society. The instant Petition relies upon claims that are repugnant to the legal and cultural constitution of the way of life in The Bahamas. As the Government of The Bahamas takes seriously any complaint of violation of Human Rights, an investigation of the allegations has therefore been launched by the Royal Bahamas Police Force, and is being carried out with dispatch.
Civic engagement by the general public, and by the petitioners in their political advocacy, is in the governance and institutional life of The Bahamas a natural, unfettered element in the identity of The Bahamas as a modern, open democracy.
The findings in this matter are to be reported in the coming days in the Government's full reply to the IACHR. The Ministry of Foreign Affairs and Immigration will continue to inform the public of the developments in, and resolution of, this matter.