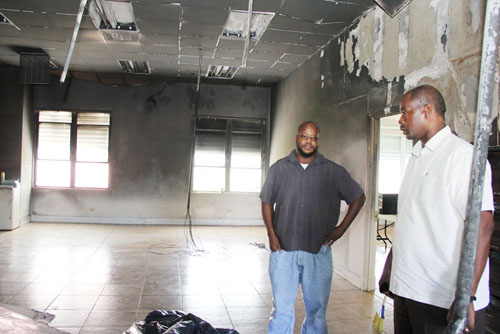 NASSAU, The Bahamas – An assessment of the fire and the damage it caused to the National Emergency Management Agency building continues, Director Captain Stephen Russell said.
On Tuesday, November 26, personnel from relevant agencies were at the site on Gladstone Road carrying out assessments of the damage to the main workstations in the centre of the newly constructed facility.Structural engineer Kirk Bullard from the Ministry of Public Works and Urban Development carried out an inspection to determine whether the roof has been compromised, and any other structures affected by the fire, which erupted on Friday, November 22, 2013.
The ministry would also determine the scope of works for repairs to be carried out and when the building would be fit to resume occupancy for the 17 staff members.
A report is being compiled by the Royal Bahamas Police Force Fire Services that would detail what caused the blaze at NEMA, which was constructed at an estimated $1.7million.
NEMA moved into its building three months ago on August 23, 2013 just around the anniversary of the Category 5 Hurricane Andrew, which struck The Bahamas and caused millions in damage and four related deaths in 1992.
It is fully equipped to accommodate the National Disaster Committee members in the National Emergency Operations Centre, during any disaster that might occur.
The fire struck just eight days before the end of the Atlantic Hurricane Season, which runs June 1 to November 30.
The National Emergency Management Agency is the agency charged with responsibility for disaster relief management.
Meanwhile, the public is asked to contact NEMA at the Police Desk at Cabinet Office at: (242) 322-3220 or (242) 376-6362 should a disaster occur. Or email: nema@bahamas.gov.bs