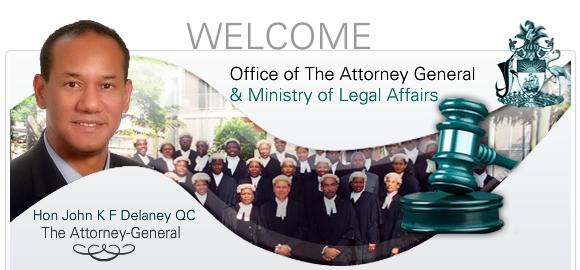 Nassau, Bahamas Attorney General John Delaney is pleased to announce the launch of the official website of the Office of the Attorney General and Ministry of Legal Affairs: www. bahamas.gov.bs/attorneygeneral.
The website is the result of a special project of Attorney General Delaney intended to serve the public as a convenient source of information regarding the role and function of that Office and the Ministry of Legal Affairs and legal developments.
The website contains information regarding the Attorney General's constitutional authority, the present ministerial portfolio, and the work of the Office of Attorney General, including the Departments of Legal Affairs and Public Prosecutions respectively. There is also information about the function of Notaries Public and Justices of the Peace for which the Attorney General has ministerial responsibility. It also records the legislative agenda and states which Bills are currently before Parliament…and much more.
Students will find the list of Attorneys General past and present useful for their civics class. Law students will benefit from information as to the functions of different parts of the Office of the Attorney General. Practitioners will find it a convenient place to see what legislative bills are expected to be brought to Parliament, those that are currently before Parliament, and be able to connect directly to the Laws Online to access the Statute Laws of The Bahamas.
The public should also find this website as a place to keep abreast of legal developments not otherwise addressed by the Court of Appeal or Supreme Court.
The Attorney General heartily thanks all those who have contributed to the website project. Special acknowledgment is made of Deputy Law Reform & Revision Commissioner Tina Demeritte-Roye who chaired the effort, and the Information Technology Unit of the Ministry of Finance which provided all of the technical support, particularly, Director June Collie, Web-designer Kino Knowles, Patricia Armbrister and Perciss Mackey.
The website is hosted on the Government's domain.