Robert F. Kennedy Jr. abused drugs as teen, drove 2nd wife to suicide, book tells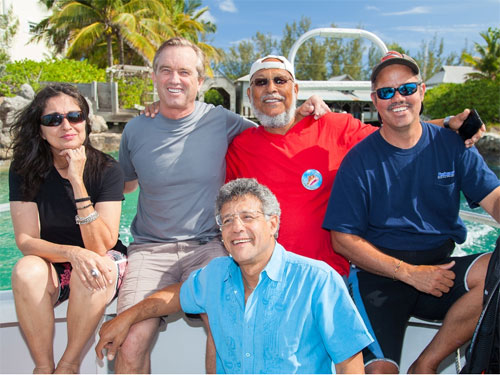 Nassau, Bahamas – Bahamas Press is following the developments concerning an activist who recently stepped down from an environmentalist group in the US after revelations of his habits became known.
Mr Robert Kennedy, Jr. was on the board the Riverkeepers Alliance, a global umbrella organisation for environmental groups advocating for the defense of clean water, energy, and farms. Back in February this year Louis Bacon's Save the Bays Chairman, Joseph Darville, also vice-president of the Grand Bahama Human Rights Association (GBHRA), was sharing a letter circulated by Kennedy Jr. about some conditions he made about the Bahamas Detention Centre and also matters in Lyford Cay.
Lyford Cay billionaire Louis Bacon is a major donor to the organization.
Kennedy had been writing letters and other material attacking the Bahamas Government over issues he claimed were important to the environment. We know he was paid to do so.
But, in an interesting twist of things, Kennedy suddenly jumped down from his top job and now most of what he has been saying about the Bahamas on social media could have been imaginary flights of fancy triggered by his own drug abuse.
After three decades, Robert F. Kennedy Jr. has quit the organization that made him a controversial celebrity environmentalist – and the group's founder says good riddance!
He resigned with 'great sadness' as a leading board member and chief prosecuting attorney of Riverkeeper, a Hudson River environmental group, where he began working as a volunteer in 1984, performing community service as part of a court-imposed sentence for heroin possession. What? Heroin addiction?
Robert F. Kennedy, Jr., the one-time heir apparent to the political dynasty known as Camelot, turned to alcohol, drugs and philandering at a young age — haunted by his father's assassination and his mother's grief.
Bahamas Press now shares the story written by Denis Slattery of the New York Daily News:
A bombshell unauthorized biography by journalist Jerry Oppenheimer, "RFK Jr.: Robert F. Kennedy Jr. and the Dark Side of the Dream," out Sept. 22 from St. Martin's Press, tells the haunting past that kept Kennedy from following in his father's footsteps.
The 61-year-old environmental lawyer and activist, nephew of President John F. Kennedy and once named one of Time magazine's "Heroes for the Planet," appears in the titillating tome as a selfish boor with a wild upbringing whose actions drove his second wife to suicide.
Now, reading this book has quickly opened our eyes to the folks behind Louis Bacon's Save da Bays team.
Heroin Addicts? Well, Chile, Please!
We report yinner decide!