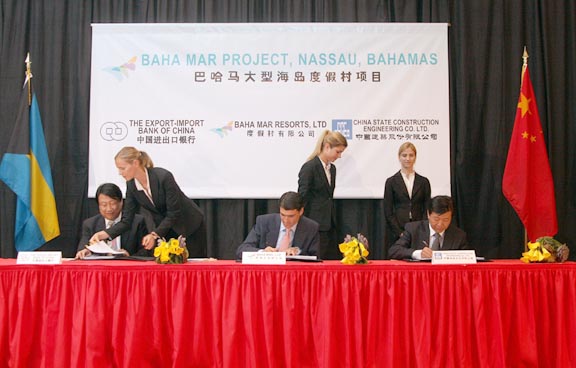 Baha Mar Resorts, Ltd. signs agreements with Export-Import Bank of China and China State Construction and Engineering Corporation to build multi-billion dollar Baha Mar Resort on Nassau.
MIAMI, USA — Baha Mar Resorts, Ltd. announced today that it has signed formal Facility and Investor agreements with Export-Import Bank of China and China State Construction and Engineering Corporation for the development of the multi-billion dollar Baha Mar Resort on Nassau's famed Cable Beach.
The agreements include financing arrangements of $2.5 billion by Export-Import Bank of China, with construction accords designating China State Construction and Engineering Corporation as the project's general contractor; and an investor agreement between Baha Mar and China State Construction, which will assume a minority equity interest. Baha Mar is an unprecedented resort development in The Bahamas that captures the true spirit of the island and the region, while bringing together the most prestigious collection of hospitality brands in the world to create a leading resort destination.
The agreements were signed by Baha Mar Resorts' Chairman and CEO, Mr. Sarkis Izmirlian; Export-Import Bank of China Vice President, Mr. Li Jun; and China State Construction and Engineering Corporation's Vice President, Mr. Liu Jinzhang, at a private signing event held in Miami on Tuesday, March 30 and attended by representatives from all three parties. These agreements bring to closure a series of discussions and negotiations between Baha Mar and both Chinese partners from the banking institution and state-owned construction corporation that began in April 2008.
Sarkis Izmirlian, Baha Mar Resorts' Chairman and CEO, stated, "Financing for mega hotel and resort developments of this size, scale and scope are extremely rare, particularly in today's economic environment, making today's signing truly historic for all parties, including The Bahamas, while serving as a promising indicator for the travel industry and its future. We look forward to working with our Chinese partners to realize the vision for this first-in-the-world resort concept, and thank the Bahamian government as well for their unceasing support."
Added Mr. Izmirlian, "These agreements mark a critically important day for the Commonwealth of The Bahamas. The Baha Mar project will be a great economic boost to The Bahamas. The creation of this unique resort will provide jobs, enhanced revenues, improved skill sets, and enhanced infrastructure. It represents a primary stimulus to help bring The Bahamas out of the recession and create better lives for thousands of Bahamians."
In addition to sharing in the vision for the resort, Baha Mar's Chinese partners expect the project will help to establish their presence in the North American and Caribbean markets, while showcasing their construction and development capabilities.
The 1,000-acre Baha Mar project is set to break ground later this year, with the construction start date subject to approvals by the governments of The Bahamas, and the People's Republic of China. Baha Mar represents the largest single-phase hospitality investment in the Caribbean and a one-of-a-kind destination resort experience in its operation, range of top-shelf accommodations, services and amenities, and true-to-The Bahamas setting and design.
Plans for Baha Mar's first phase include approximately 3,000 rooms; a 100,000 square foot casino; two signature spas and a third world-class destination spa; an 18-hole championship Jack Nicklaus Signature Golf Course; 200,000 square feet of meeting space; 3,000 feet of continuous beachfront; a 20-acre beach and pool experience; and a 35,000 square foot retail village with upscale shopping, chef-branded restaurants, and entertainment venues.
Scheduled for completion in late 2013, it is expected that Baha Mar will create over 8,000 new jobs for Bahamian workers across all sectors of the hospitality industry. In addition, Baha Mar Resorts has re-affirmed its commitment to hire as many qualified Bahamians as possible to work on the project during its construction phase. Baha Mar is projected to generate 2.3 million annual visitor room nights; inject $1.1 billion in spending and direct taxes into the Bahamian economy in the first year of operation; and generate an additional $740 million, or a 10% increase, to the current GDP of The Bahamas.