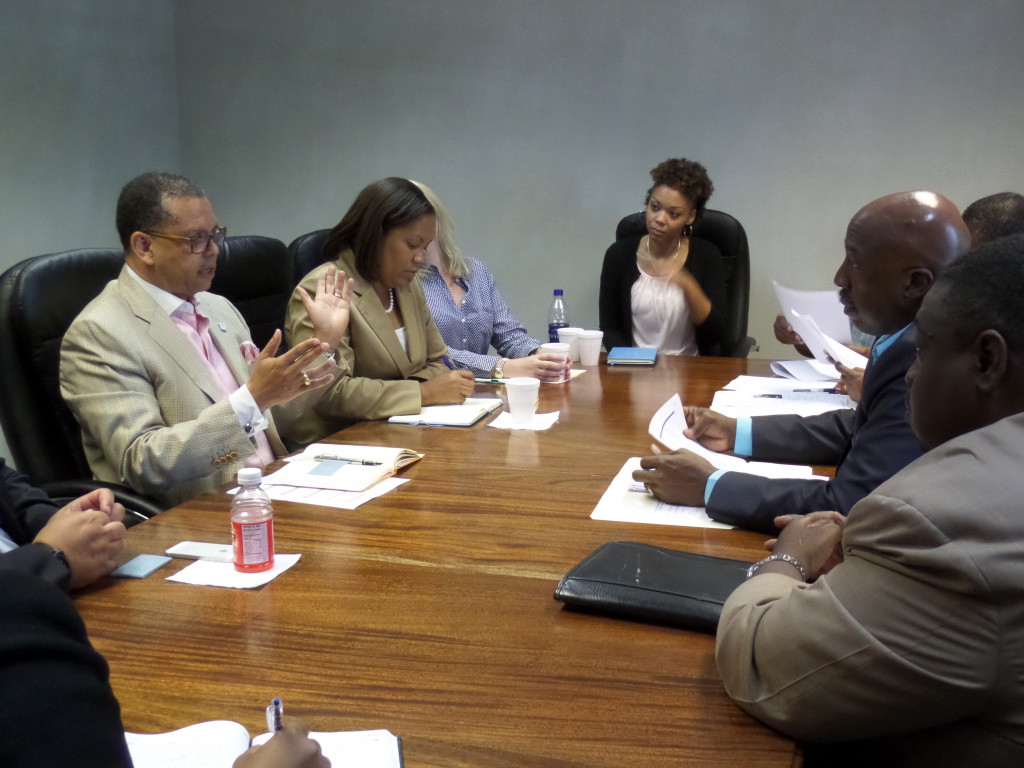 Baha Mar's Senior Vice President, Mr. Robert 'Sandy' Sands and Mr. Luis Fernandes, Managing Director of Rosewood at Baha Mar recently paid a courtesy call on the Minister of Labour, National Insurance and the Public Service, the Hon. D. Shane Gibson on Friday, 25th of July 2014. Mr. Sands who was also accompanied by Ms. Kirsty Cowper, Director of Recruitment and Human Resource Administration; Ms. Viana Gardiner, Chief Compliance Officer and Corporate Counsel for Baha Mar; Ms. Tabitha Pratt, Human Resource Manager for the Grand Hyatt at Baha Mar informed Minister Gibson that Baha Mar is on target for its December 2014 opening.
Baha Mar's officials disclosed that four senior Baha Mar employees are currently interning at Rosewood Resort properties where they are receiving international training and exposure on how to provide exceptional customer service.
The senior executives also provided Minister Gibson with an update on Baha Mar's Leadership Development Institute (LDI) which recently graduated its first class which included 150 individuals, with its second graduating class comprising an additional 170 persons slated for August 19; and another 360 persons for another term.
The Baha Mar team, also revealed that more than 300 Bahamians recently started training at Baha Mar's Casino Gaming school. Mr. Sands explained that Baha Mar's casino will employ up to 750 to 800 Bahamians and will be staffed by 90 percent of Bahamians.
During the meeting Minister Gibson commended Baha Mar's team, stating that "Baha Mar is making good progress." Minister Gibson stressed that he wants to ensure that Bahamians are given first preference as well as every available opportunity to apply for jobs at Baha Mar.
Also in attendance were Mr. Marco Rolle, Acting Permanent Secretary in the Ministry of Labour and National Insurance; Mr. Robert Farquharson, Director of Labour and Mr. Colin Wright, Consultant with the Ministry of Labour