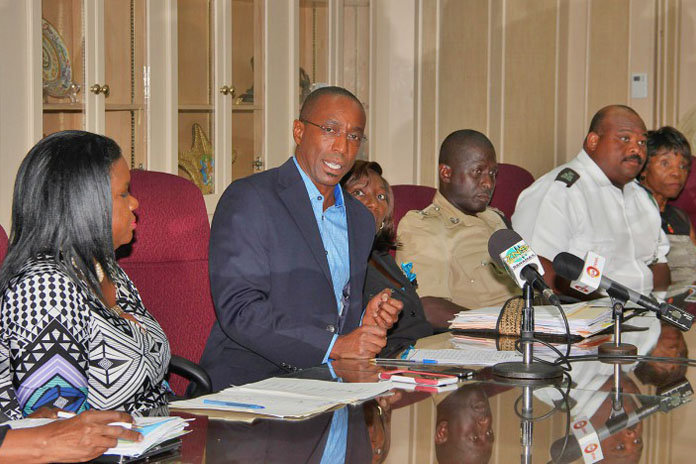 Nassau, Bahamas – The Bahamas has a lot to be proud of when one considers that this small arc of islands has often produced world-class moments many times its magnitude by citizens who are extremely talented across the board.
Honouring Our People's Excellence is the theme of the 43rd Anniversary Celebrations of Bahamas Independence, recognizing the stellar achievements of many Bahamians throughout the islands of the country, and abroad.
Speaking on behalf of the Minister of Tourism at a press conference Monday at Cabinet Office to announce the Independence Celebrations Calendar of Events, Artistic Director of the Bahamas National Independence Commission Ian Poitier pointed out that in past years, Bahamian culture and the youth were particularly highlighted, but this year a broad swath of Bahamian society is being praised. The commission asks that all Bahamians participate in the many celebration activities that, he said, re-assert the national identity, and tell the story.
Mr. Poitier stated that there will be new things to look forward to, or "a refreshment" of the independence programme, and that moving towards the country's 50th anniversary there will be new ideas incorporated into national observances, especially Independence.
Launch of the Celebrations will take place this Friday, July 1, in Rawson Square as 'National Pride Day.'
'National Pride Day' will start with Official Opening ceremony Friday morning, and flow into a gala street festival to be enjoyed by all throughout the day and well into the evening. Director of Bahamas National Pride Association Joanne Johnson encouraged all to get their flags and wear their colours.
There are almost daily major events leading up to July 10 Independence Day – namely: the Beat Retreat, Rawson Square ( July 3); Ceremony to Honour Cultural Legends, Pompey Square ( July 5); 43rd Anniversary Celebrations and Flag Raising at Clifford Park ( July 9-10); State Reception at Government House (July 10); The People's Love and Unity Rush, Bay Street ( July 11 at 12 a.m.); Ceremony to Honour Sports Legends, National Stadium ( July 14).
During the Independence Celebration period there will be an official re-naming of the Marsh Harbour Airport to the Leonard M. Thompson Airport, which will take place on Thursday, July 7, in Abaco.
The Bahamas Ministry of Tourism also promotes the popular Junkanoo Summer Festival on Saturdays during July (except for July 9 because of Clifford Park observances).
Surrounding the fanfare will also be independence celebration-endorsed events – such as National Art Gallery Cowbelling and Drumming in Rawson Square ( July 1); Urban Renewal Flag Raising at all centre parks ( July 5); Liturgical Dance Parade & Concert at Fort Charlotte to Arawak Cay ( July 10); and the All-Andros and Berry Island Regatta ( July 8-11).
Superintendent of the Royal Bahamas Police Force Band Dennis Sturrup reassured that the police continue to take measures and precautions to ensure the safety and security of the public.