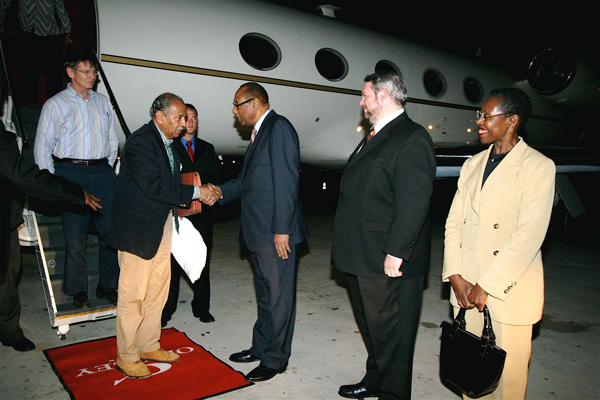 Bahamas Ambassador to Washington the His Excellency C.A. Smith welcomes Chairman of the US Judiciary Committee, Congressman John Conyers and his delegation on Tuesday, April 7, 2009 at Odyssey Aviation, Coral Harbour Road. Pictured from left are Congressman Conyers, Ambassador Smith, Tim Brown, United States Charge d'Affaires, United States Embassy in Nassau; and Marilyn Zonicle, Deputy Permanent Secretary, Ministry of Foreign Affairs.
Nassau, Bahamas – The Ministry of Foreign Affairs is hosting a United States congressional delegation led by Chairman of the US Judiciary Committee Congressman John Conyers from April 7 to April 9.
Discussions will focus on joint narcotics interdiction efforts, ongoing collaborative efforts between the United States and The Bahamas in illegal drug interdiction and the current situation in Haiti.
Congressman Lamar Smith and Congresswomen Donna Christensen and Jan Schakowsky make up the congressional delegation.
Deputy Prime Minister and Minister of Foreign Affairs the Hon Brent Symonette will receive Congressman Conyers and his delegation during a courtesy call at the Ministry of Foreign Affairs Thursday.
The delegation will also pay a courtesy call on Prime Minister Rt. Hon Hubert Ingraham, Minister of National Security the Hon Tommy Turnquest and Attorney General Senator the Hon Michael Barnett before attending a luncheon hosted by the Deputy Prime Minister.
Congressman Conyers Jr., a Detroit Democrat, was re-elected to the 14th Congressional District in November, 2006; his 21st term in the US House of Representatives.
Mr. Conyers, who entered the House of Representatives in 1964, is the second most senior member in the House of Representatives. In his 40-plus years in Congress, some of his major accomplishments include the Violence Against Women Act of 1994, the Motor Voter Bill of 1993, the Martin Luther King Holiday Act of 1983, the Alcohol Warning Label Act of 1988, and the Jazz Preservation Act of 1987. He was also the driving force behind the Help America Vote Act of 2002.
Congressman Conyers was also the original co-sponsor of a Haiti Trade Bill, which would provide duty-free status to Haitian garments that are either assembled or knit to shape in Haiti provided the yarn and fabrics are from the US or from countries with which the US has an agreement.