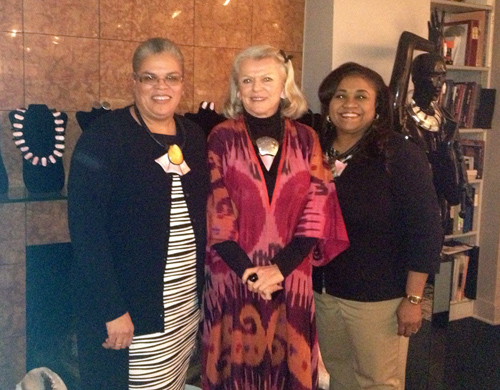 By Oswald Brown
WASHINGTON, D.C. — The Bahamas Conch Shell Collection was among an "extensive collection of wearable art" showcased at a reception hosted by renowned extraordinary jewelry designer Sylvia Gottwald at her IRIDESCENCE studio, 2550 28th Street, N.W., Washington, D.C., on Wednesday, December 11.
The Hon. Paulette Zonicle, Bahamas Consul General to Washington, D.C., and her private secretary Debbie Harrison were among those attending the reception.
"The pieces of jewelry designed from conch shells from The Bahamas are extraordinarily beautiful," Consul General Zonicle said. "In The Bahamas, we tend to focus most of our attention on the mollusk that grows in a conch shell that is the main ingredient in conch salad, a popular Bahamian dish, but although jewelry and other artifacts made from conch shells are produced in The Bahamas, it seems to me that this industry can be greatly expanded in our country."
Gottwald, who designs jewelry with shells from around the world, is an ardent advocate for healthy oceans and "seeks opportunities for her jewelry to be a platform for a dialogue on environmental issues," according to information provided on her background.
She is a "Harvard-trained architect who worked internationally as an urban planner and promoter of preservation of cultural heritage and endangered marine areas threatened by exploitation and pollution."
"Following extensive travel, Gottwald turned her attention to wearable art and helped transform the traditional craft of mother-of-pearl into a contemporary form," the background information document noted. "Her first collection of the ocean objects d'art and jewelry was produced in Paris, France, and the materials used were sourced from sustainable pearl farms in the South Pacific. Her designs with pearls and nacre (mother of pearl) are unique pieces in limited editions, created from seven species of pearl-producing shells and various sea and fresh water pearls."
Gottwald's work has been "exhibited in the shops of the Museum of Modern Art in New York City, the Musee des Arts Decoratifs in the Palais de Louvre in Paris, the Musee de la Nacre in Paris/Meru, and the Museum Kampa in Prague, among others."