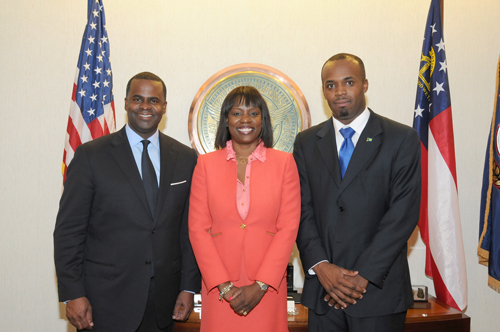 By Arthia Nixon
Atlanta, Georgia – Forging stronger alliances in education, entertainment, trade, tourism, sports and youth initiatives were the primary topics when newly appointed Bahamas Consul General Randy E. Rolle paid a recent courtesy call to Atlanta Mayor Kasim Reed.
Accompanied by Deputy Consul General Monique Vanderpool, Rolle who considers himself a self-professed Falcons fan, was shown the Mayor's personal collection of items from Atlanta's NFL team while touring his office. In turn, the Mayor revealed his love for The Bahamas, which lures him to vacation there annually during the winter.
While there was amicable banter, the focus shifted to ways in which Atlanta and The Bahamas can offer exchange opportunities, particularly in areas such as education, economy, youth initiatives and tourism. Another important aspect for further development is culture and historical connections of The Bahamas and the jurisdiction over which the Consul General presides.
"I am excited with the opportunities that exist for Bahamians and Atlantans," said Consul General Rolle. "As a result of this meeting, we see that we are on the cusp of establishing a mutually beneficial partnership in several areas between The Commonwealth of The Bahamas and the City of Atlanta. Like myself, Mayor Reed is also quite a young man and we both understand the importance of reaching youth with special initiatives and incentives in order to pursue the vision."