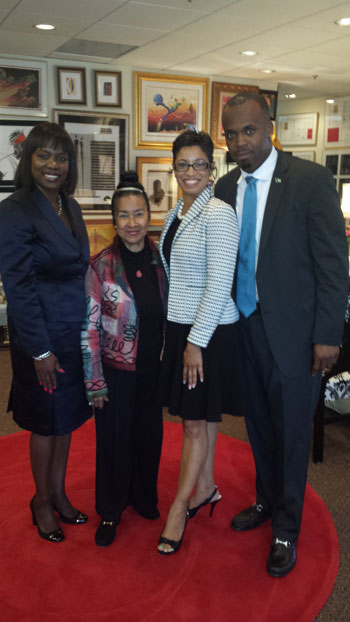 Atlanta – Bahamas Consul General to Atlanta the Hon. on.Randy Rolle along with the Deputy Consul General Monique Vanderpool and Sonja Brown, a Bahamian and community prosecutor in DeKalb County, who is an advisor to the Consul General, recently paid a courtesy call on Xernona Clayton, founder of the Trumpet Awards Foundation and International Civil Rights Walk of Fame to honor the achievements of African Americans and civil rights advocates.
During the Civil Rights Movement, Clayton worked for the National Urban League and Southern Christian Leadership Conference, where she became involved in the work of Dr. Martin Luther King, Jr.
Clayton then went into television, where she became the first Southern African-American to host a daily prime time talk show.
She subsequently became corporate vice president for urban affairs for Turner Broadcasting.
Pictured from left are: Deputy Consul General Vanderpool, Ms. Clayton, Ms. Brown and Consul General Rolle.