Country is set for a Major Global Economic Boom under Christie Administration – Baha Mar Gets Young Bahamians Ready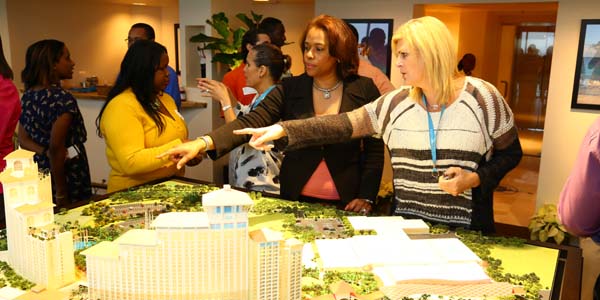 By  Arthia Nixon, Press Secretary
Bahamas Consulate General Atlanta
(Atlanta, Georgia)… In an effort to lure Bahamians back home to render their skills in the tourism and business sector, Baha Mar and the Bahamas Consulate Office of Atlanta are teaming up to host a Discovery Day Mixer in the city. The event, set for October 11 from 6 – 9p.m. at the Hyatt Regency Hotel on 265 Peachtree Street, Atlanta, Georgia, will target Bahamian professionals, students, and more.
According to Bahamas Consul General Randy Rolle, this direct approach will assist in combating what many have deemed a 'brain drain' in the nation, where many students opt to stay in the country they receive their education as opposed to returning home with their degrees to assist in the development of their country and communities. It will also help fill an estimated 8,000 positions at the $3.5 billion development when it opens in December 2014.
"There are many Bahamians families who sacrifice to send their children off to school and after years of training, graduating top of their class, many of them return home discouraged because there are no jobs," stated Rolle at a recent press briefing. "As a result of that, many people feel inadequate and there is a feeling of despair amongst our young people. Why should we encourage them to invest in getting a first class education if there is a feeling that their skills, training and education will never be fully utilized. With Baha Mar coming to Atlanta, which along with Florida and New York has one of the highest populations of Bahamians abroad, they are directly targeting potential employees before they come back home so they can know what The Bahamas has to offer. At the same time, it can also serve as a great way for Atlantans to see what we have to offer in The Bahamas in terms of investment."
Rolle added that by inviting Baha Mar to the area, it coincides with the Bahamas Consulate General's mandate of continuing to seek opportunities for Bahamians at home and within his jurisdiction which covers Alabama, Arkansas, Georgia, Kansas, Kentucky, Missouri, North Carolina, South Carolina, Oklahoma and Tennessee.
Meanwhile, Vonya Ifill of Baha Mar feels that the Discovery Day mixer is a great opportunity to introduce Bahamians to their brand partners Rosewood, Mondrian, Grand Hyatt and The Baha Mar Casino & Hotel and also to all of the jobs that will be available in the various hotels.
"We will be filling 8,000 jobs so in addition to the local outreach we need to find Bahamians wherever they are abroad and bring them back home," she said.
She revealed that outreach events were held in Florida and London so far and that Canada and New York are other target areas after Atlanta. Additionally, there will be socials in The Bahamas targeting Bahamians who are visiting home for the holiday in December. Ifill added that it was inevitable that they would collaborate with the Bahamas Consulate in Atlanta to directly get the word out to Bahamians in the area.
"Baha Mar, the largest single-phase resort development in the Western Hemisphere, has become a powerful driver of the Bahamian economy, and accounted for an estimated 5 percent of the Commonwealth's annual Gross Domestic Product (GDP) in 2011 and 2012, according to a comprehensive updated economic impact report (EIR) by Oxford Economics," Ifill stated. "The report shows that since 2005, Baha Mar has accounted for an average of 3.2 percent of the Bahamian economy. This accounts for a total of $2.1 billion between 2005 and 2012. Once the $3.5 billion integrated gaming resort is up and running, it is expected to account for 12.8 percent of Bahamian annual GDP on average. From 2005 to 2012, Baha Mar has generated $719 million in additional employment income. Through direct and indirect impacts, Baha Mar has supported an average employment count of more than 3,000 jobs on a full-time-equivalent (FTE) basis."
"Attendees can expect to get an inside scoop of what Baha Mar will look like once it's complete," said Ifill. "We will be exposing them to the brands and meet brand representatives from Mondrian, Rosewood and Grand Hyatt. Overall, we want them to leave having a better idea of the ideal candidate that Baha Mar is looking for so they can come to the event to learn more about how they would fit."
For more information contact e-mail: bahamasconsulatega@bahconga.com or call (404) 214 – 0492.