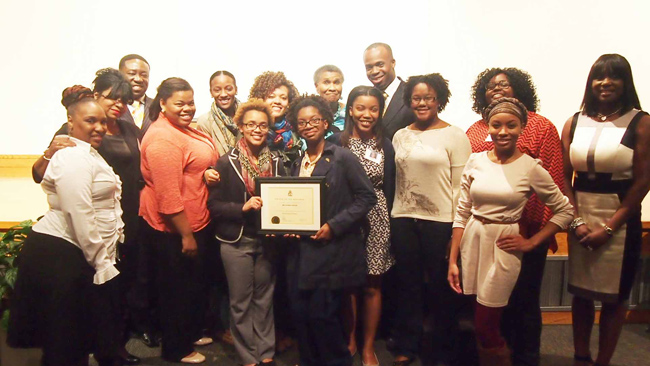 By Arthia Nixon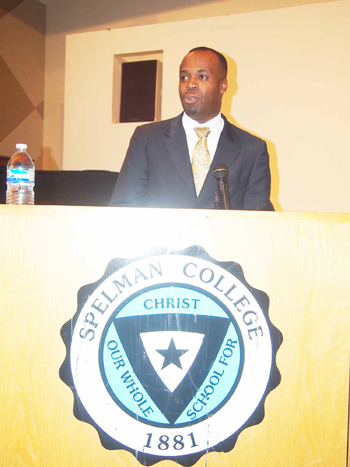 Photos Kenyon Missick
Bahamas Consulate General Atlanta
(Atlanta, Georgia)…With the city still mourning the loss of the founder of the Southern Christian Leadership Conference Women, creator of the Drum Major Justice Awards and civil rights pioneer Mrs. Evelyn Lowery, the season was ripe for the Bahamas Consulate Office of Atlanta to showcase Marion Bethel's Womanish Ways: Freedom, Human Rights and Democracy at Atlanta's historic Spelman College and the Allen Entrepreneurial International Institute.
Bethel, who was in Atlanta with her husband former Attorney General and Minister of Education the Hon. Alfred Sears, toured the city with Bahamas Consul General to the area, the Hon. Randy Rolle. In addition to meeting some of Atlanta's influential African-American entrepreneurs and activists, she also had the opportunity to talk about the documentary with Roger Bobb, former Vice-President for Tyler Perry Studios and CEO/President of Bobbcat Films during a visit to his studios. The producer is known for Meet The Browns, The Rickey Smiley Show and several Tyler Perry Films featuring the character Madea, plus The Family That Preys, For Colored Girls and Why Did I Get Married and its sequel that was filmed in The Bahamas.
Bethel also shared her vision with billionaire Dr. Bill Allen, founder of the Allen Entrepreneurial International Institute as he hosted her and the Bahamas Consul General to lunch. After receiving a copy of Womanish Ways DVD, Allen encouraged her to continue to tell the stories so that they are not forgotten and shared his own inspirational life of success, highlighting how he went from being born on a plantation, the grandson of a former slave, to establishing and overseeing an internationally recognized educational empire.
"I am very pleased," said Bethel following the film's showing at Spelman later that evening. "I am very happy that you all turned out to share this event with us. It is really a joy… I want to say thank you to the Consul General, Randy Rolle for being so enthusiastic about making this event happen and I also want to thank SIS [Spelman Independent Scholars] for allowing me to come and share Womanish Ways and also for the sincere hospitality they have shown me and my husband. I also want to thank Dr. Gloria Gayles for believing in me and believing in the work that I do and just having the faith and the support is incredible and I can't thank you for all that you've done and for all that we will continue to do together."
Consul General Rolle stated that people like Marion Bethel have much to contribute as it pertains to sharing the history of The Bahamas, especially in a city like Atlanta which is known as the birthplace of the Civil Rights Movement.
"I am very pleased that Ms Bethel was able to make the tremendous impact she made with her presentation," said Rolle. "I am also pleased that Min. Sears was present as the former Minister of Education to see the opportunities that exist for not just Bahamian students at Spelman and at the Allen International Institute, but also the opportunities that exist for those enrolled in these institutions to see the unique learning and cultural offerings that are in The Bahamas.
At all of the events we attended today, I've had personal feedback and thank you's from those who have a new found appreciation for Bahamian history, culture, and even filmmaking. It is certainly encouraging and we look forward to fostering a greater relationship in these areas."
During his thank you speech, Rolle invited Dr. Gayles forward and recognized her as the first recipient of the Atlanta Consul General's Office Friends of The Bahamas Award. Overwhelmed with the honor, Dr. Gayles invited SIS to join her to accept it. The token, Rolle explained, is to thank those in his jurisdiction for their contributions to Bahamians and The Bahamas.
For more information contact e-mail: bahamasconsulatega@bahconga.com or call (404) 214­-­0492.