Restoring Constitutional Referendum Focus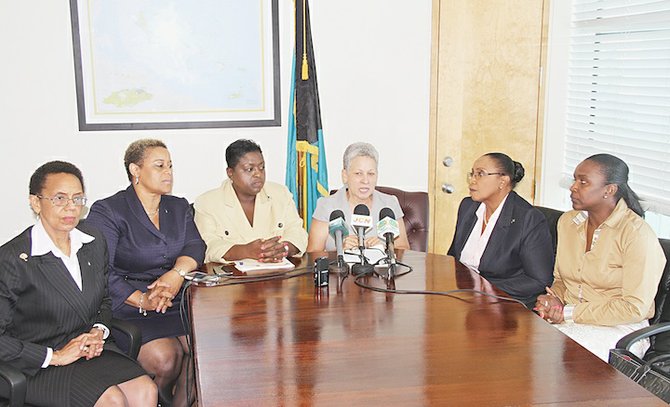 Nassau, Bahamas  – The Commonwealth Women Parliamentarians Bahamas Branch held a press briefing August 14 to announce plans to launch a campaign to bring clarity to the issues of the Constitutional Referendum currently being debated. The group attempts to re-focus on the important fundamentals of the referendum that purportedly are being clouded by extraneous matters.
The group also aims to direct discussion towards women being viewed equally under the Constitution.
The following are remarks made by Attorney General, Senator Allysons Maynard Gibson:
"I make it very clear from a legal standpoint that the use of the word "sex" does not in my view as the Attorney General open the door for same sex marriage. I say that if for no other reason that the very constitution itself saves the Matrimonial Causes Act and the Matrimonial Causes Act says that in The Bahamas a marriage is a union between a man and a woman.
I also want to add interestingly that the word "sex" has been in The Bahamas Constitution since 1964. It has always been known to mean a man or a woman." Referring to past Privy Council rulings, the Attorney General continued that "further, the Privy Council cases make it very clear that even where someone has had a sex change for the purposes of marriage, your sex is your biological or your chromosomal composition at birth, that is XX for women and XY for men."
These rulings represent important precedents that are effective checks against marriages within the LGBT social grouping not involving a man and a woman. So it is clear that The Bahamas constitution, together with the statute laws of The Bahamas and Privy Council rulings on gender effectively render same sex marriages unconstitutional, therefore illegal.
As for the argument that the insertion of the word "sex" opens the door for same sex marriage, there is simply no legal foundation to support this suggestion, fear or concern and the perpetrators of this piece of misinformation have not provided the legal foundation on which this so called argument is supposedly built. From all indications, the argument is merely a false and fabricated premise, being used as a pretext to inject the highly emotive topic of same sex marriage into the national debate to create confusion and fear and to deflect from the salient constitutional issues at hand which is the expansion of personal rights and freedoms to men, women and children, thereby guaranteeing equality for all under the law." – Attorney General Hon. Allison Maynard Gibson