Patron Lady Foulkes on hand for ceremony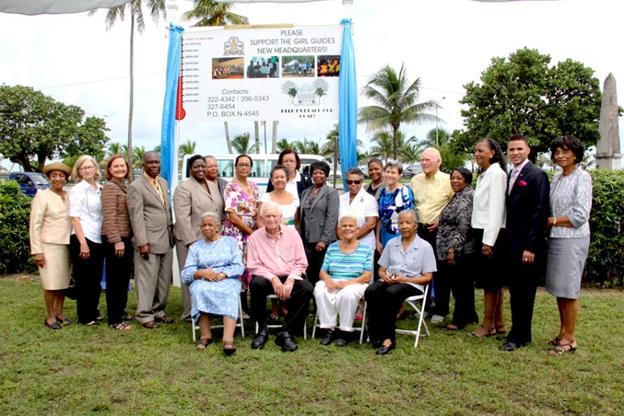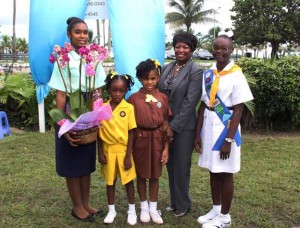 For nearly a century, the Bahamas Girl Guides Association has been inspiring young Bahamian females, preparing them to lead meaningful lives as empowered women growing from strength to strength even as they help colleagues, peers, families and a nation grow. Now the Girl Guides organization is experiencing growth of its own as it raises funds for a new headquarters to be built at a cost of $1.2 million with an additional $300,000 required for furniture and equipment.
Officials of the organization, buoyed by the presence and support of Patron Lady Foulkes, wife of the Governor General, publicly launched the building fund drive today in a ceremony complete with an unveiling of a sign that marks both past accomplishments and records present contributions.
The new headquarters, which will be built on the western portion of the current site located on West Bay Street in time to commemorate the organization's 100 year anniversary in 2015, will replace the current tiny building leaders say they long ago outgrew. The new facility will include meeting rooms, office spaces, training areas, accommodations for girl guides visiting from other countries and other essential working areas.
Former Chief Commissioner and current Chief Trainer for the Girl Guides, Elma Garraway, highlighted the scale and scope of ongoing activities of work by the local organization.
"There are some 2190 girls and 131 leaders located on New Providence, Grand Bahama, Eleuthera, Abaco, Exuma, Long Island, Andros and Inagua," said Ms. Garraway. "Girls and leaders are given the opportunity for international exposure through participation in sessions at the World Centres and attendance at regional and international camps." She noted that the number of members combined with the hosting of international groups made the construction of a new headquarters anything but a luxury.
"It is an absolutely essential improvement if Girl Guides is going to remain relevant in a world where there are a lot of options, though few as life-changing as this," she said. "Remember when we started there were fewer than 20 participants and we are still operating in the same cramped space, so we are extremely grateful to those who have already donated and we urge those who are considering it to help us meet our goal. By empowering young females to think positively about themselves, to teach them self-respect and respect for others, they have the power to impact the behaviour of those around them and make for a better, more civil, more productive society."
The organization has already raised $500,000, most of it through a committee chaired by Clarice Granger. Architectural services are being donated by Alvan Rolle, Alvan K. Rolle and Associates Architects, and the signage that will be a new landmark on West Bay Street was donated by former Girl Guide member Christine Lawrence, now an owner of The Trophy Case and Nassau Plastics.
The Guides' building committee, chaired by noted historian Dr. Gail Saunders, used today's ceremony to launch its public campaign, appealing especially to former Guides to contribute to the organization that contributed to their development. Members of the headquarters' fundraising committee include Mrs. Marvis Chea, Ms. Betty Cole, Mrs. Elma Garraway, Mrs. Mena Griffiths, Mrs. Maria Ferere, Mrs. Michele Fields, Mrs. Christine Lawrence, Mrs. Harriet Pratt, Ms. Tanya McCartney, Mrs. June Sands and Dr. Gail Saunders.
"The Girl Guides Association invites all former Sun Flowers, Brownies, Guides and Rangers, leaders of units and former members of the Association and Council to make donations to this very important project," Dr. Saunders said.
Founded in the UK in 1910, the Girl Guides is an international organization that holds all members to the Promise, a vow taken by all Girl Guides which states, "I will do my best, to do my duty to God, to serve the Queen and country, to help other people and to keep the Guide Law". With representation in over 145 countries, Guides helps millions of girls from around the world to develop themselves and aid those around them.