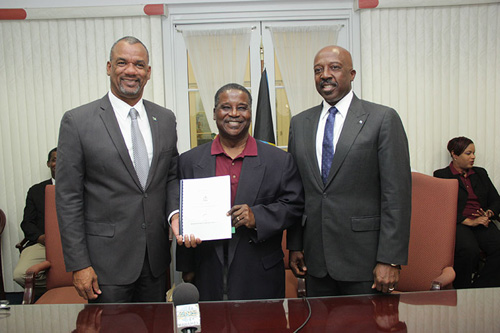 NASSAU, The Bahamas – The Bahamas Government and the Bahamas Education Managerial Union (BEMU) have signed the first Industrial Agreement that will benefit some 400 union members including managers, supervisors and technical staff.
The "historic" five-year agreement was signed at the Ministry of Public Service, Meeting Street, on Wednesday, July 15. Highlights of the agreement include but are not limited to: Professional Development, Sabbatical Leave, Responsibility Allowance and "the introduction of a onetime payment for geographical posting for officers setting up a second home" as well as "the introduction of a Disturbance Allowance for persons posted away from the island in which they were domiciled in excess of three months."
Among those witnessing the signing were Donella Bodie, Permanent Secretary in the Ministry of Education, Science and Technology; Janice Miller, Acting Permanent Secretary, Ministry of Labour and National Insurance; Lionel Sands, Director of Education; senior government officials, Frank Carter, Labor Consultant and Lead Negotiator; Charles Wildgoose, President, BEMU and union executives.
The Hon. Jerome Fitzgerald, Minister of Education, Science and Technology, said no bargaining agreement pleases all of its members, however, "the key objective is that collectively, the members of BEMU will feel a sense of worth and appreciation."